Have you or your employees and partners struggled with project time tracking? If you are providing some sort of services to your clients who pay you both on a per hour or project basis, this could be a real issue.
Why Is Accurate Time Tracking Essential for Your Business Growth?
When unrecorded hours go through the cracks, your business is losing profit and your margins decrease. Tracking your time more accurately can help you regain control over billable hours. And focus on the most profitable projects while setting aside those that eat out your time and profit.
Time tracking is not only about your effort. It is also your team's routine and company's culture focussed on transparency and accountability. That is why when trying to become better at measuring time and billing your clients according to timesheets, you need to engage the whole organization and partners – employees and contractors who are cooperating on your agency's projects.
Once implemented right, more accurate time tracking will help you earn more. And send your clients invoices that have a higher total sum while remaining fair and even more transparent than before.
In this article, I will show you how you can achieve the following results:
spot unprofitable projects and focus on the ones with a bigger revenue potential
achieve more transparency with your clients and win their respect
improve your project management skills as a business owner or manager
create more accurate sales proposals based on previous work history
Let's get started with these five essential time tracking tips for the businesses that operate in the agency model.
Integrate Your Time Management and Time Tracking Tools
Understanding what tasks consume the most time for your employees, subcontractors, or yours is the first step to becoming more efficient at managing projects. To achieve this, you need to track time spent on every task and trigger your timer more often.
Remember that tracking time you spend on a project in general without a more detailed breakdown into tasks won't offer you a more granular overview. As a result, you won't be able to spot the most time-consuming tasks.
So how can you track projects in a more detailed way? Integrate your time tracking with a task management tool such as Asana, Trello, or Todoist. Here is how tracking time spent on a specific task looks like in a project management tool, Asana with the TrackingTime integration: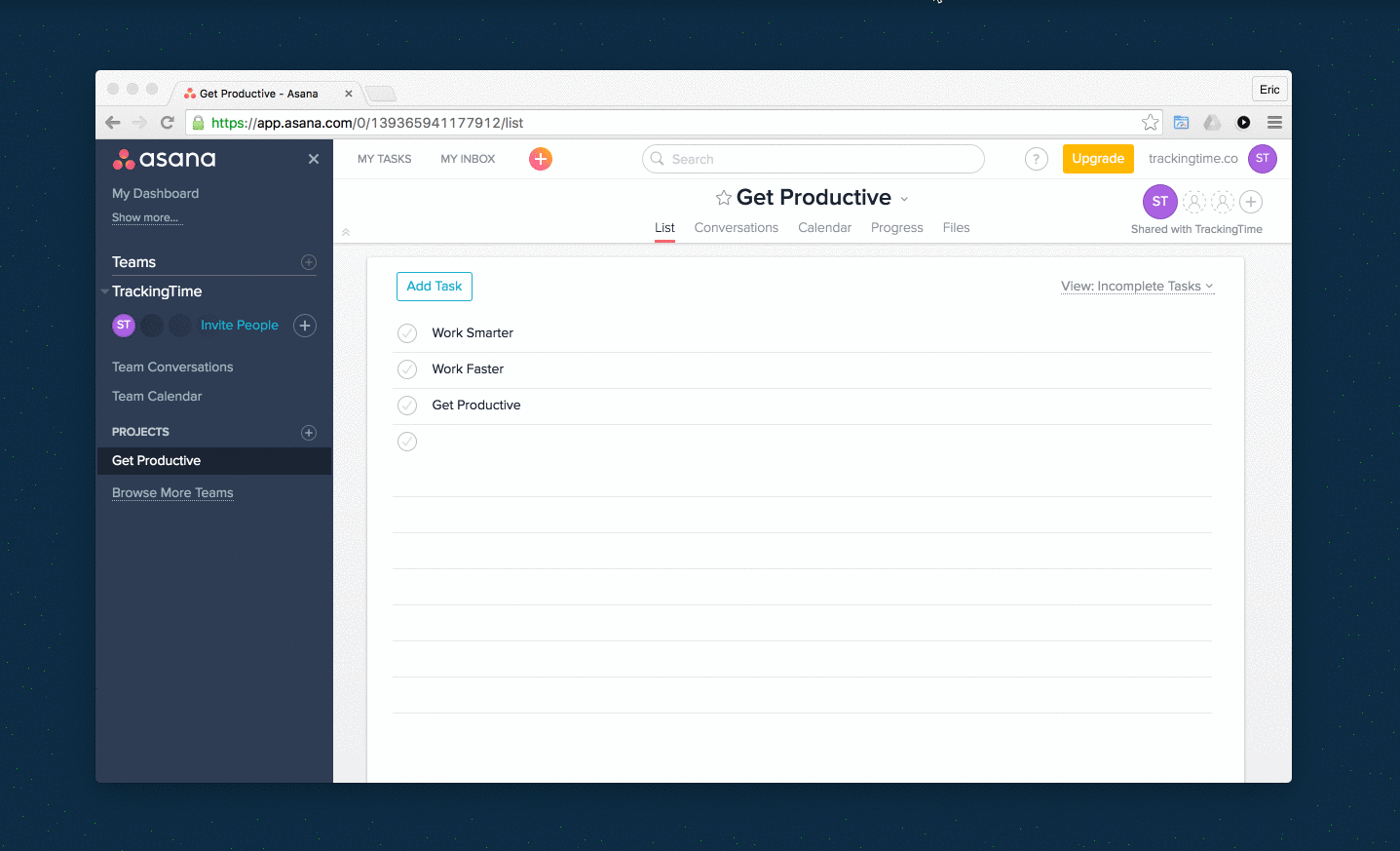 However, remember that you can easily get discouraged. Or simply forget to stick to your new routine when adopting a new approach to tracking your and your team's time. That is why you have to clearly understand the reason why you are doing it. And what results it can bring you in the long run. Your team should also understand it and feel incentivized to stick to the new rules.
For instance, the Founder of Systeme.io, Aurelien Amacker, claims their company started to grow by 9% per month when they started tracking their team's time.
For instance, the Founder of Systeme.io, Aurelien Amacker, claims their company started to grow by 9% per month when they started tracking their team's time.
I will show how to achieve this later in the article so keep reading!
Analyze Your Time Tracking Reports
There are certain projects that might make you do multitasking. For example, if you are an event manager and are organizing an online summit. You need to account for many things. Such as organizing a venue, confirming speakers, sponsors and media partners, setting social media goals, starting a promotion campaign or involving contractors who would support you.
No matter if you are billed per hour or per project. You need to show accurate reporting to your client who will later pay you. And other contractors who you have involved. When keeping a record of the time you are spending on doing your work, you can then prepare and start analyzing reports. Reports are useful not only for the billing purpose. But also they can teach you how to not do your business.
For example, you could underestimate the time you need to complete a particular task on your last project. As a result, your project margins went slim. By identifying this problem using time reports, you can consider charging more for the same project. Over time your project estimates can improve so will your margins.
With advanced reporting, you can learn what things you need to outsource. Or even automate some tasks with chatbots or other technology as the time-consuming activities negatively influence your margins.
To sum up, reports will help you improve your billing and increase your company's profitability. If you have certain clients who pay considerably less than the rest of your clientele, you can consider asking for a higher rate. Or simply suspend your cooperation if they can't afford you.
Quick tip: By cutting down on less profitable projects, you can free up more time for the clients that are willing to pay more for a better service. As a result, you will increase your clients satisfaction and that can result in more recurring work for your company in the future.
Automate Billing and Time Reporting
If you are a consultant working on a retainer basis with some of your clients, you will benefit from automating the process of collecting your team's timesheets, calculating final rates, and adding them to your invoices.
To make the billing time less stressful and time-consuming, you can integrate your accounting or payroll system with a time tracking app to accept payments faster. Use direct integrations if you time tracking and bookkeeping tools offer one. Alternative, set up Zapier to connect both and reduce the manual work of transferring time marks to create a retainer invoice.
Also, if you haven't done it yet – set up recurring invoicing that will help automate the process of issuing documents and getting paid faster. For businesses that are tracking employee's time and expenses, consider integrating your time tracking software with an expense automation platform.
Time Tracking for More Transparency
When working with clients more transparency in reporting project success can help you earn your client's trust and respect.
According to the Sprout Social Study, people define transparency mostly with the terms such as openness (59%), clarity (53%), and honesty (49%).
Here are just a few ideas on how you can become more transparent to improve the process of billing and reporting work progress.
Show a breakdown of time spent on tasks in the form of a table or pie chart.
Increase the level of detail in your reports – to minutes or even seconds.
Send regular reports – discuss if your client wants daily, weekly, or monthly reports.
Consider describing tasks in more details so your clients can easily understand what you have worked on.
Improve the accuracy of tracking time among your employees and contractors.
Promote Good Time Tracking Practices
If you have gained control over your time tracking routine, your effort won't result in much change if the whole company is not following your example.
Quite often the reason behind inaccurate time tracking is not your people's laziness or a lack of transparency. This situation can appear when there are no best practises for time tracking in place. Consider the following steps to change it.
State what way your team should track time, including the level of detail.
Explain what practices are not allowed. This will help to promote discipline among employees.
Show examples of goof and bad ways of tracking projects.
Make billable and non-billable task categories clear – create both lists for a reference to all interested.
Improve on your team's clarity in writing task description.
Pro-tip: Be a smart leader who is willing to educate and teach. Don't require your employees and contractors to figure out things on their own. Carry out a brief online session – gather everyone involved in your projects and introduce them to the best practices of time tracking.
Prepare a brief presentation with examples or use your company's LMS platform to create a simple course about time tracking. Find some incentives for people to track their time spent on projects more accurately. Consider creating a monthly reward for those who are putting in effort in introducing a healthy approach to time tracking at work.
How to Track Your Time as a Pro for Better Billing – Final Notes
Accurate time tracking is a habit and unless you are a solopreneur, you will need to make sure the whole company has successfully adopted it. Only by getting everyone involved, you will make a real impact on the company's bottom line together.
To achieve this goal, you need to start educating on the best practices, regularly checking on performance, and learning from the mistakes.
Later, when you have introduced the new practices, you can start measuring the change and get more insight into how your team's time is spent. Time tracking reports will help you spot your company's weaknesses in project management that can result in lost revenue. You will be able to make better sales proposals in the future and manage projects more efficiently.
I hope that some of the above tips will be useful for you to improve your time tracking routine and will have a direct impact on your company's growth rate. Now it's time to experiment with them and put some in action. Good luck on your way to better time tracking!
---
About the author:
Margo Ovsiienko is a Growth Marketing Partner for tech companies. She creates content that converts website visitors into paying customers for B2B/SaaS companies with digital marketing funnels. Get in touch with Margo on her blog, Margo Leads or LinkedIn.
---
It may interest you: