Discover how TrackingTime helps Soluciones GxP, a pharmaceutical consulting company, managing their projects and resources to improve project budget and client billing.
Project Budget and Client Billing Solutions
Since 1995, Soluciones GxP offers a wide range of IT and business consulting services in Latin America. Over the past 20+ years, the company has been helping businesses in highly regulated industries like the government and the pharmaceutical industry to improve their processes while staying compliant with both local and international regulations.
"We organize our work into projects. Some are billed by the hour, others have a fixed price. This fixed price includes a budget of hours that should be dedicated to each project" says Eleonora Scoseria, co-founder and executive director at Soluciones GxP. "In each case, we need to know how many hours we worked: on the first case, to bill the client properly and on the other so we don't spend more hours than we allocated to the project."
Switching to Online Time Tracking
Before adopting TrackingTime at their company, they had developed their own time tracking system to track projects and time. "It wasn't sophisticated; we had to add each time entry: Our team members were reluctant to use it and often forgot to log their time. We didn't have a smartphone app, we couldn't access the tool via the web, so we started looking for a better alternative" explains Eleonora how her team decided to make the switch to TrackingTime about four years ago.
Tracking Time Anywhere
To make sure their timesheets are always complete the team uses TrackingTime's web-based app while at the office and grabs the mobile apps for iOS and Android when working with their clients onsite. Since they also work with Smartsheet they use the TrackingTime Button for Chrome and Firefox to track time without leaving their project management tool of choice.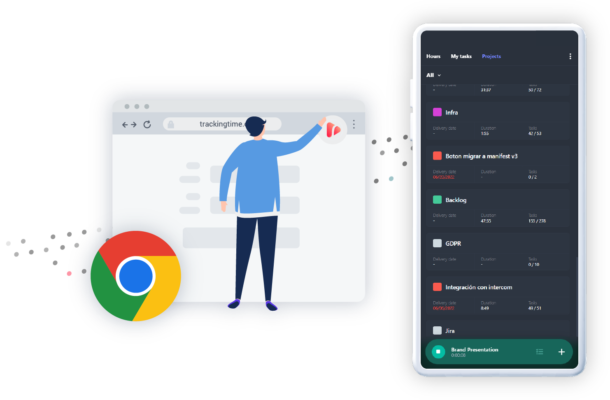 Keeping Projects on Time and Budget
To better understand how they are using their time and keep their IT and business consulting projects running smoothly, Eleonora relies heavily on TrackingTime's projects report, a feature that was initially developed upon their requests and is now widely used across our customer base.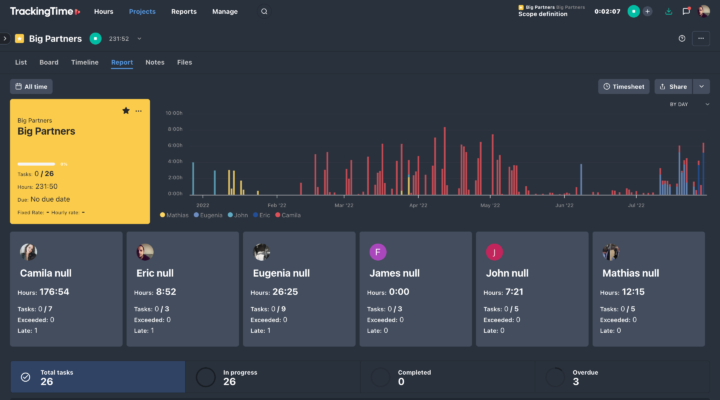 The report gives her a quick overview of ongoing projects so that she can check whether they are on time or overdue. Also, she and her project managers can see if there are projects that have already exceeded the budgeted hours or are about to.
Additionally, they export their time reports once a week and analyze them in an excel sheet that they've created for consolidating data from different systems. "These sheets tell us how we are doing. If we are over our time budget, it shows us that cell in red automatically" says Eleonora.
About Soluciones GxP
Soluciones GxP is a Uruguayan-based company specializing in comprehensive services for the pharmaceutical and other highly regulated industries. Founded in 1995 Soluciones GxP It's a consolidated consulting company and has world-class clients to which they design and implement management systems and structures that can be easily maintained.
Industry: IT and Business Consulting
Location: Montevideo, Uruguay
---
It may interest you: