Satisfied customers are the be-all and end-all of any successful company. Therefore, modern help desk software, with which they can be operated optimally is indispensable for companies of all sizes and in all sectors. The following is a presentation of proven cloud solutions for every requirement.
Modern Help Desk Software for Companies of All Sizes
Retaining customers is more difficult than attracting new customers. Above all, SaaS providers and all companies that are active in some form in the booming subscription economy know this. For example, those who sold software in the PC era had to focus on acquiring new customers. Because they achieved their goal by selling a one-time license.
Whether the customer really succeeded with the software or not was secondary to the classic licensing model. The subscription or SaaS model has fundamentally changed that. Acquiring new customers is just the beginning. The goal is no longer to get new customers, but to retain them in the company for the long term. Therefore, providers must ensure their customers' satisfaction with the product and their benefit from it.
Particularly in the subscription economy, customer success is crucial. On the one hand, companies offer a good service, periodically improved through updates and adapted to changing customer requirements. On the other hand, fast, friendly, and efficient customer service plays a fundamental role. Whoever abandons their clients when they have problems, does not react promptly to their wishes or requirements, or does not promote dialogue with them, simply lose their clients to the competition.
Better Customer Service through Process Automation
In times of WhatsApp, Twitter, Facebook, chat bots and the like, the classic support channels such as telephone, email or contact forms on company websites are no longer enough to offer professional customer support. Modern help desk services promise a solution.
These are aimed at companies of all sizes and in all sectors that want to improve customer service. By automating recurring processes, collecting customer feedback in a structured way, and minimizing support requests by providing public knowledge databases and customer portals. In addition, these solutions include collaboration tools that enhance collaboration between support staff and ensure greater productivity in day-to-day business.
Reporting and analysis features are now part of the standard repertoire of professional help desk software. They also provide management with important insights into the performance customer service team. By analyzing important KPIs, such as customer satisfaction or average response and ticket processing times, companies can ensure that customer service is continually optimized.
However, choosing a suitable help desk solution that offers the necessary features and fits both the support team and the customers is not always easy. For one thing, the market supply can hardly be seen through. On the other hand, the systems are aimed at different user groups.
Choosing a suitable help desk solution that offers the necessary features and fits both the support team and the customers is not always easy.
In some cases, you will notice big differences when you compare the functional scope of different help desk solutions. You will search in vain for the perfect help desk software that suits all businesses. Rather, companies must find a solution that best suits their specific needs. Anyone who needs an in-house IT support system will have completely different requirements than someone who has to serve external customers. There is even dedicated school help desk software in the education sector.
For instance, providers in the consumer market should expect support inquiries via Facebook, Twitter, Instagram, and Co. And providers of business solutions for business clients need not to worry about social media as a support channel. Customer's support needs, expected services, and required support channels, play a central role in selecting the right solution.
Below we show what is important when choosing the right help desk solution in different application scenarios. And we present professional alternatives for different user groups. From startups and SMBs to larger companies that not only serve external clients. But also internal IT to provide professional support.
Modern Alternatives for Startups and SMBs
Help Scout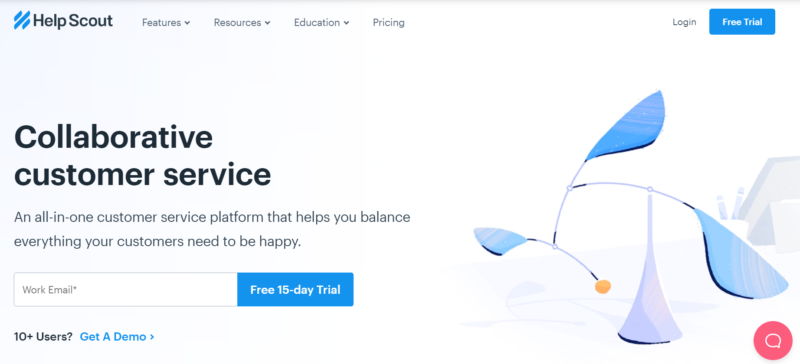 We consider good old email the number one productivity killer in internal corporate communication. However, it is still indispensable in external communication with stakeholders, partners, and most of all, customers. For this reason, email remains one of the most important support channels. Anyone looking for help desk software to better manage their support emails should take a look at Help Scout. The solution from Boston primarily focuses on email and live chat support.
Social media and telephone are deliberately not compatible in order to keep the solution as simple as possible. With Docs, Help Scout also offers the option of creating a modern online help center. Customers can search for tutorials, operating instructions, and best practices themselves.
It rounds up the range of functions with useful collaboration features, such as automatic notifications and assignments, comments, and status updates, which enhance collaboration between the support team. In addition, integrations with other business solutions are also helpful. As well as extensive reporting tools with which you can analyze and evaluate the performance of your customer service team.
Front App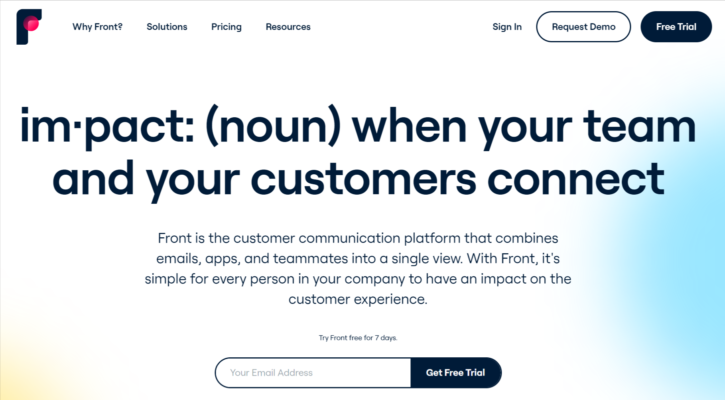 Front is a good alternative to Help Scout. Startups and SMBs seeking other support channels in addition to email and live chat can benefit from it. Since its founding in 2013, the French startup has raised nearly $80 million for its expansion. And that's from renowned VCs and business angels like Berlin's Point Nine Capital, Slack founder Stewart Butterfield, and renowned startup incubator Y Combinator. Front enables companies to manage all external communications with their customers in one central location. Teams can jointly manage different email addresses such as contact @, sales @, and support @. As well as other communication channels such as SMS, Twitter, LinkedIn, and telephone. Front attaches great importance to the user experience. And scores with practical tools that enable collaborative processing of customer inquiries in a team.
Intercom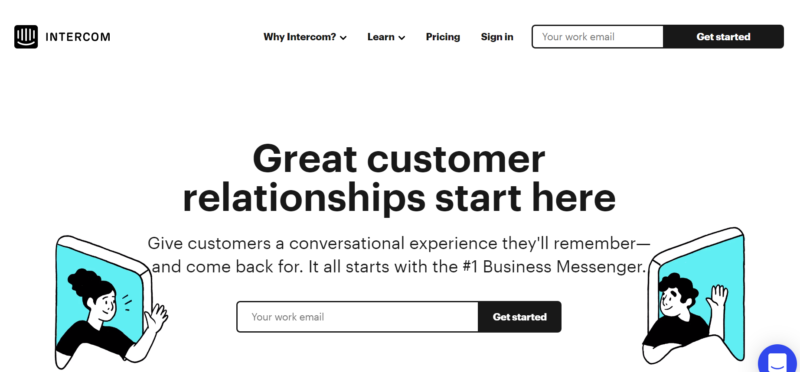 Intercom is one of the best examples of how modern customer communication works. Especially for Internet companies who call their customers users. It is a comprehensive all-in-one suite that does much more than just provide customer support. In addition to Inbox for email and live chat support, the solution consists of other by-products. Platform for user analysis, Messages for automating personalized sales and marketing campaigns, and Articles for creating a customer service portal.
This means that the software can cover all interactions between a business and its customers in every phase of the customer life cycle. Customer engagement is key. Automation plays a central role in this. With the chat and reply bots on offer, companies can create their own workflows and automate repetitive tasks. For example, if a customer asks about a specific product feature, the bot can suggest a suitable article from the integrated help center. An advantage for software vendors: with the help of various SDKs, Intercom integrates into any web, desktop, and mobile apps. Startups offering digital products and services, and wanting to bring marketing, sales, and support under one roof, should also take a closer look at the intercom alternatives HelpCrunch and Outseta.
Business-Class Solutions
These new startup products, which have hit the market in the last five to ten years, must take on the big market leaders that serve startups and SMBs. As well as large companies with their comprehensve business-class solutions.
These include Zendesk, Salesforce, Zoho, and Freshdesk, among others. Since its founding in Denmark in 2017, Zendesk has grown continuously. The company has been listed on the New York Stock Exchange since 2014. And the range of functions is now extremely broad. In addition to multi-channel support, core features also include user-friendly self-service options, like knowledge databases, customer forums, communities, and portals. Zendesk is also known for its professional automation tools, such as macros and triggers. For instance, it can automatically resend support tickets, complete tasks, address important issues, and send notifications.
HappyFox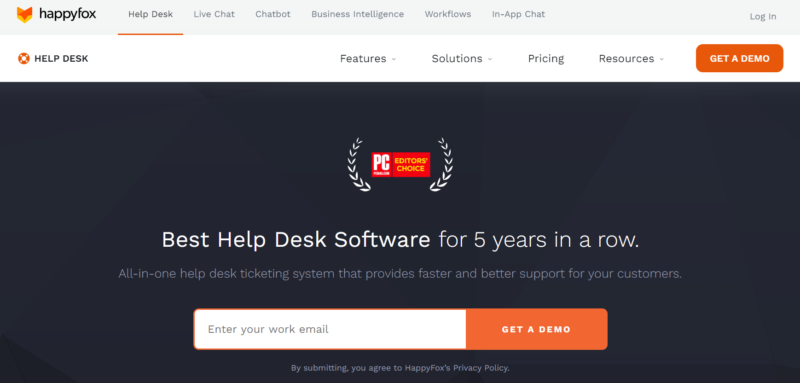 HappyFox impresses above all with its great flexibility in mapping individual customer service processes. If you are looking for simple help desk software that easily adapt to your own requirements, this web tool from India might be what you need. The main functions of the platform, which is also multi-channel capable, include comprehensive ticket management, self-service portals, and a detailed reporting module. Support tickets can be classified as required using numerous parameters. And can be automatically forwarded to various support agents according to freely defined rules.
Freshdesk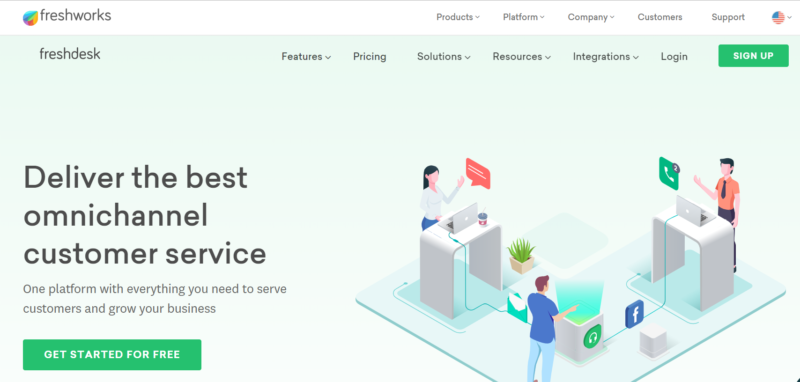 Ticket management, multi-channel support, integrated time tracking, knowledge databases, customer forums and detailed reports on productivity, customer satisfaction, and other relevant metrics. These are just a few of the countless features that FreshDesk has up its sleeve.
Behind this solution is Freshworks, a large software company with branches in India and Silicon Valley. It provides several business solutions for all activities related to sales, marketing, and support. In addition to the usual standard features of a powerful multi-channel solution for high demands, Freshworks offers an interesting feature that you won't find with all vendors: "Gamification".
The solution implements various game elements that should turn support tickets processing into a kind of playful competition. For instance, if a support agent successfully processes a support ticket within one hour, the responsible receives X points. If they have particularly satisfied the customer with the processing of their order, the agent earns bonus points. Each company can define its own rules of the game to motivate and reward its employees when they perform above average.
For Internal It Support
In addition to these solutions for external customer support, there are specific offerings in the market for help desk software for in-house IT support, in which employees are treated as customers. Larger companies that need an in-house IT support solution can use another Freshworks product: Freshservice. It is a cloud service desk solution oriented to ITIL (Information Technology Infrastructure Library), with which medium and large companies can modernize their IT.
Jira Service Desk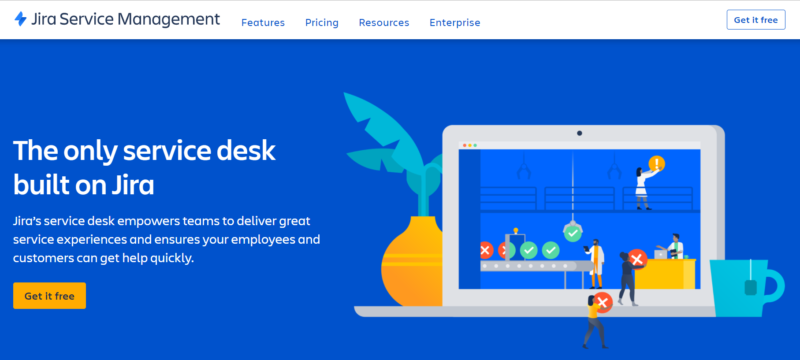 Jira Service Desk competes directly with Freshservice. This is offered by Atlassian from Australia, known for popular productivity apps like Jira, BitBucket and Trello. Service Desk is based on Atlassian's flagship product Jira, which has long established itself as a proven project management system for software developers. And offers a central point of contact where employees ask for help, report problems, or request new services from the IT department.
The scope of the solution is left to the customer. Users can provide basic help resources or set up comprehensive service management that is ITIL-compliant. The solution also offers many integration options with other Atlassian products, as well as third-party tools. Through integration with Confluence, users can easily set up a self-service portal where customers can access useful information independently. From Jira Service Desk, users can connect their preferred resource management tool to directly assign, track and link requests to resources.
Along with ServiceNow, SysAid and Samanage, there are more business-class professional service desk solutions, which have also established themselves successfully in the market.
TrackingTime's Help Desk Software Integrations
TrackingTime provides a solution to keep track of record employee and collaborator time within the best help desk software options. These allow you to effectively manage your customers' service requests and make follow-up reports. With TrackingTime integration you can track time on tickets directly from Freshdesk with a single click. Also visualize work hours performed by agents in Zendesk. Or control the amount of time you have spent working for each ticket in Supportpal.
Help Desk Software Is the First Step to Better Customer Service
Modern cloud solutions enable companies to automate and accelerate customer service processes, with the goal of increasing customer satisfaction. Thereby, building better customer relationships. Customers, support staff, and management can benefit from this.
In addition to established high-end solutions like Zendesk or Freshdesk, startups and SMBs can choose from a variety of lesser-known, but still powerful (and usually cheaper) alternatives. In terms of functionality, design, and usability, newcomers like Help Scout, Front, or Intercom do not have to fear comparisons with the top dogs, on the contrary. When choosing the right help desk solution, companies should precisely define their requirements. And test alternatives optimized for their individual use cases, that do not offer unnecessary features and are as user-friendly as possible for the support agents.
---
Why do you need help desk software for your business?
Satisfied customers are the be-all and end-all of any successful company. In times of WhatsApp, Twitter, Facebook, chat bots and the like, the classic support channels such as telephone, email or contact forms on company websites are no longer enough to offer professional customer support. Modern help desk services promise a solution.
What kinds of help desk software are available?
All-in-one, business-class solutions, and internal IT support, just to name a few. You can choose from a wide variety of services to suit your needs.
---
It may interest you: