5 types of professional reports you can create with TrackingTime
TrackingTime helps you make your professional reports accurate. With detailed information to make prudent business decisions, improve productivity, and measure the profitability of your business.
Undoubtedly, reports are communication tools that must have certain characteristics in order to meet their objective: "Report" on the progress of your business. Making it is not an easy task, making a complete and easy to understand report is quite an uphill struggle. Everyone at some point had to make a manual report in an Excel spreadsheet, a situation that at one point makes the whole process cumbersome and makes the work go on, generating job saturation and stress, the No. 1 enemies of productivity.
Creating accurate reports is one of the most important bases for any company or freelancer. These provide detailed and key information to make prudent business decisions, improve productivity and measure the profitability of any business; And this is where TrackingTime kicks in, with the premise of providing a summary of valuable time data in a clear and easy way.
TrackingTime reports are ideal not only to measure productivity, but also to perform payroll calculations, customer billing, measure project profitability, and make budgets. That is why we want to help you improve each and every one of the aspects of your reports so that you can present your company's information not only in a simple way but also in a professional way.
Here are 5 types of reports that you can create quickly and easily with TrackingTime:
1. Reports for productivity analysis
In these times, with saturated markets and high expectations from consumers, improving the productivity of your human resources is essential. But you can only optimize productivity within your company if you first measure and analyze it efficiently. TrackingTime is specially designed for this purpose.

Employee Performance Comparison

Compare how long each employee took to complete a task, assign the same task (for example "email newsletter design") to different users ("designers") with due dates and estimated times, and create a report to compare the performance of each employee. With TrackingTime time sheets you can make a report filtering by task, grouping by user, and choosing the Duration column; This way you can analyze how many hours each one dedicated to the same task.
---
2. Customer Billing Reports

We are all aware that without a good flow of money it is difficult for a business to work, so each punctual payment from your clients is a key factor for your collection process to move healthily. Also, this will allow you to continue offering a quality service, and this is why you must define a registration system that allows you to bill properly.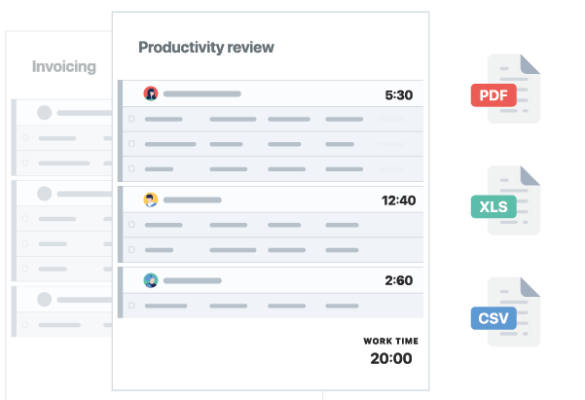 Worked hours for a client, per month and per project
TrackingTime allows you to analyze the activity of your company in a friendly and adaptable way to your requirements, in the activity panel of the account you can visualize how you are investing your time, see the hours worked by employees, projects, clients or services, and choose a predefined time period (this week, this month, etc.) or select custom dates to analyze any period.
If you offer customer services and hourly bills, TrackingTime will help you create accurate timesheets so you can bill your customers for all that is due. For monthly billing, you can create a report detailing the tasks performed, the value of your hourly fees, and how long each task took.


---
3. Reports for payroll calculation

As small and medium-sized enterprises (SMEs) grow in size and scale, the complexity of the payroll process changes, so each company needs to have a well-structured payroll process, and in this case, it is important that at the moment from a review of your payroll you have real-time information that allows you to analyze the performance of your staff, either daily, weekly or monthly, from being a utopian integration to a real need.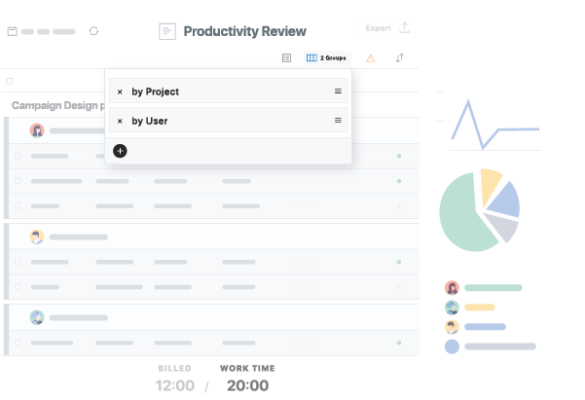 Visualize worked hours by a specific employee to make your payroll calculations easier. With TrackingTime's flexible reports, you can filter by user and select the columns you want to appear in the report. In the case of hours worked by an employee, it is convenient to select the columns "date", "from", "to" and "duration", because it will allow you to accurately record the time worked by each of your employees. One of the features of TrackingTime is that it allows you to export the reports in PDF and easily share them with the department in charge of payments.

---
4. Reports for project management

Keeping each of your projects afloat and achieving the pre-established objectives to provide a benefit for your company is one of the most important bases for growth. Project management is a methodical approach to planning and guiding project processes from start to finish, and this is where the TrackingTime project report comes in, allowing you to get an overview of all your currently active projects.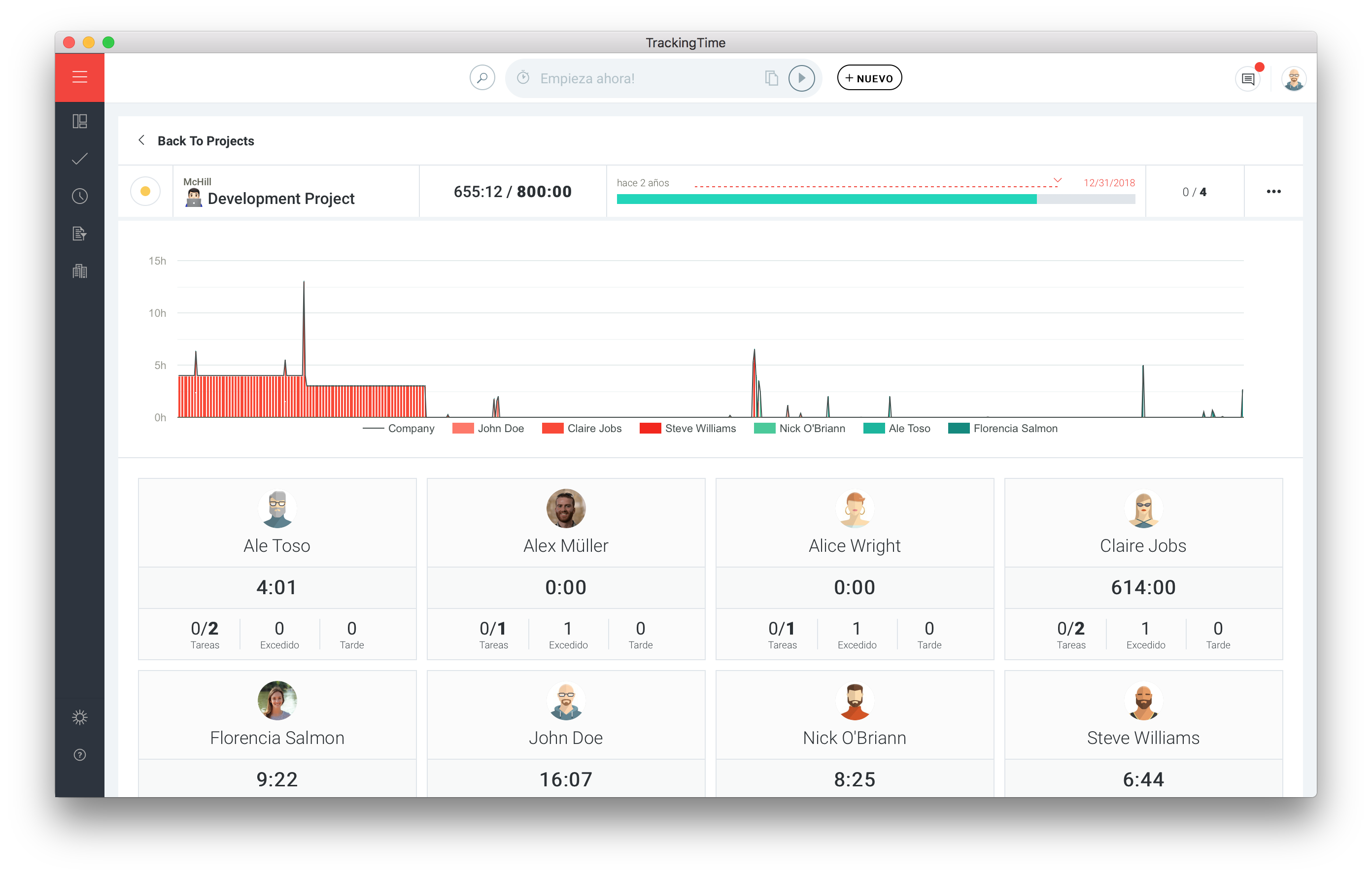 Analysis and optimization of your profitability
The TrackingTime project report facilitates each of the analyzes that are necessary to make your project management easier than ever, allowing you to observe each and every detail, and in turn, analyze the performance of each of the members of your team and how much each one has contributed to these projects. Just by clicking on the table column headings, you can sort the tasks of the projects by name, duration, progress, or delivery date.


---
5. Reports for control of attendance
As a company, relying on your employees to have control over their entrances and exits is not ideal, since it makes registering working hours a cumbersome process. Registering or tracking employees is an arduous task for any supervisor. With the control of hours and the signing of employees, all the resources of the workforce available to a company can be analyzed, increasing and improving productivity, in addition to controlling the attendance of workers, delays, breaks, and worked extra hours.

TrackingTime's time cards allow you and your team to easily track clock in and clock out, as well as create monthly reports of employees beyond the time they arrive and leave, but also considering the breaks they take during the day and over time they work.


---
Conclusion
TrackingTime's productive reports, allow you to see where each action is: what is missing, what else could have been done, or simply what feedback has been had. Also, the reports will help you make the client see all the effort you do and understand where they spend their money (and how successful their investment is), which will maintain confidence in your company. No matter what kind of reports you need to do, monitor your team's performance, and make sure they use their time wisely! This flexible and friendly reporting system you can do it quickly, easily, and professionally to share them with your clients or colleagues.