Home office and remote work at the forefront
Home office, mobility, remote working, freelancing: The way we work is changing dramatically. Collaboration solutions that enable companies to remain productive are becoming increasingly important – the range of offers is extremely broad.


---
Remote Working Around the World
Regular working hours, permanent office jobs and long-term employment relationships are no longer as natural as they used to be. The freelance economy is booming. There are already around 53 million freelancers in the United States. That corresponds to about 34 percent of the workforce in America – by 2020 it should be 50 percent.
This development can be seen not only in the USA but also in Europe. For example, home office work has increased steadily in Scandinavian countries as well as in Switzerland, France, Holland, and Great Britain in recent years. The Netherlands even had the right to have a home office at the beginning of July.
However, employers are not very enthusiastic about the new legislation. Above all, skeptics fear inefficient communication between the employees and a difficult work organization, which would lead to higher costs or loss of productivity.
These are also the reasons that speak against the home office and telework in Germany. In a recent study, the industry association BITKOM surveyed around 1,500 German companies on the subject of digitization in the world of work. Accordingly, in 75 percent of companies, all employees are required to attend. And the vast majority of respondents (70 percent) also assume that the classic office workplace will not lose its importance.
When asked what reasons would speak against the home office, 33 percent of those interviewed replied that productivity would decrease without a direct exchange with colleagues. 27 percent reject telework because employees are not available at all times, 17 percent because working hours cannot be controlled.
Another interesting result: 56 percent of the companies surveyed prefer face-to-face meetings, 44 percent use conference calls. Video conferences, on the other hand, are used in only eight percent of companies, the study continues.

---
Rethink required
These results show why the majority of German companies do not seem to be prepared for future forms of work. Because if you try to manage a distributed team with constant personal meetings and phone calls, under strict working time regulations and with constant availability, you will surely fail. Flexible forms of work require a new corporate culture and new management methods. The use of special collaboration solutions that ensure efficient collaboration beyond the classic office is indispensable.


From simple to-do and messaging apps, which primarily address smaller teams and promise an easy entry, to more powerful project management solutions, which are available in countless variants, going through apps to track worked hours like TrackingTime, to holistic, extensive social networks for companies, especially in the Enterprise sector is booming: In the last few years an extremely diverse market has emerged, in which there is something for everyone.

---
Getting Things Done
Traditional collaboration solutions have become increasingly complex over the years. They were often selected by the IT department without responding to the wishes and needs of the users, and therefore often failed due to the lack of user acceptance. Modern business apps, however, focus on the user and focus heavily on usability and ease of use. This trend can be observed especially with successful to-do apps such as Wunderlist, Todoist, Asana or Producteev. Originally designed for the consumer market, they now come up with particularly chic UIs in the business environment, which are implemented with great attention to detail.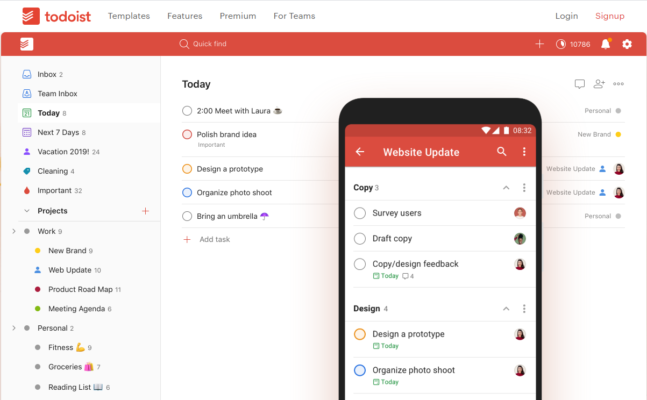 In terms of functionality, task management apps are mostly based on David Allen's "Getting Things Done" method and focus on simple administration and delegation of tasks. Features like comments and discussions, deadlines, priorities, appointment management, file sharing and automatic notifications shouldn't be missing in any to-do app for business teams today. Another commonality among the different products that are available in this market segment today is the large platform independence. In addition to the usual web apps, native desktop apps for Windows and Mac OS X as well as mobile apps for iOS and Android are available in most cases.

---
Innovative Messaging-Apps
Messaging apps for companies such as Glip, Unison, and, above all, HipChat and Slack have recently also made it easy to enter the world of software-based business collaboration. Such applications enable teams to exchange information with any number of colleagues in chat rooms and to easily share files with one another. All conversations are saved persistently so that you can search them at any time if necessary. In this way, they ensure greater transparency and promote the exchange of knowledge among employees, no matter where they are working. Such chat rooms are suitable, for example, for individual projects, teams, or specialist departments. As an administrator, you have full control over who can participate in which discussions.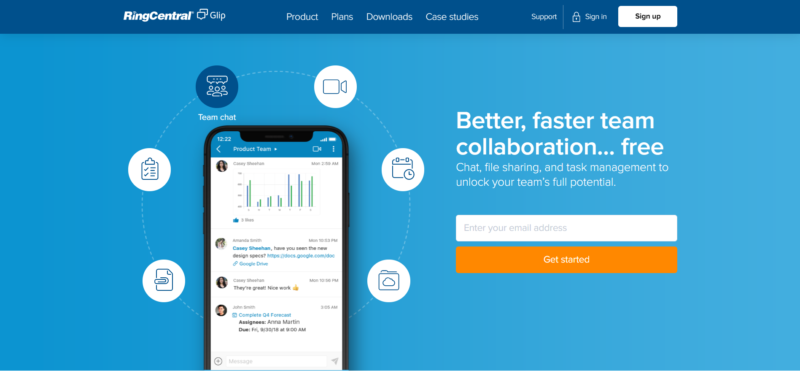 In addition, the numerous integration options of HipChat, Slack and Co. represent one of their central selling points. All notifications that the tools used by the team send are displayed in predefined chat rooms. This means that all business-relevant discussions – around open tasks, documents, bugs, code commits, support tickets and much more – take place in a central location. Task management or similar planning and organizational tools are, however, sought in vain here. Chat services primarily cover the communication aspect of business collaboration.

---
Project management for every need
Companies that are not satisfied with the feature set of a lightweight to-do or messaging app and rely on advanced tools rely on classic project management solutions. These primarily address service companies that work on different projects in parallel for different customers. For example, software manufacturers, architectural firms, design, marketing, or Internet agencies cannot get around today with professional PM solutions with which they can efficiently manage project resources, schedules, responsibilities, and so on.


Around 30 years after the first PM software came onto the market with Microsoft Project, the range of products in this market segment has become extremely broad. These range from classic systems such as OnePoint Projects and Smartsheet, which score with Gantt charts, plan / actual comparisons, and comprehensive reporting, through communication-oriented products such as Basecamp and Werkstatt42, to industry-specific tools such as conceptboard, from which creative minds in particular benefit can. In the software industry, agile PM solutions that implement the tried-and-tested Scrum and Kanban process models are on the rise. Many software teams will find an efficient method to successfully lead their complex projects to their goal in collaboration applications such as Jira, TargetProcess, PivotalTracker, or Sprintly specially designed for them. An interesting development can be seen here: With visual PM tools such as Planbox, AgileZen, and above all Trello, proven agile concepts such as the Kanban board are made attractive to a wider audience outside of the IT industry.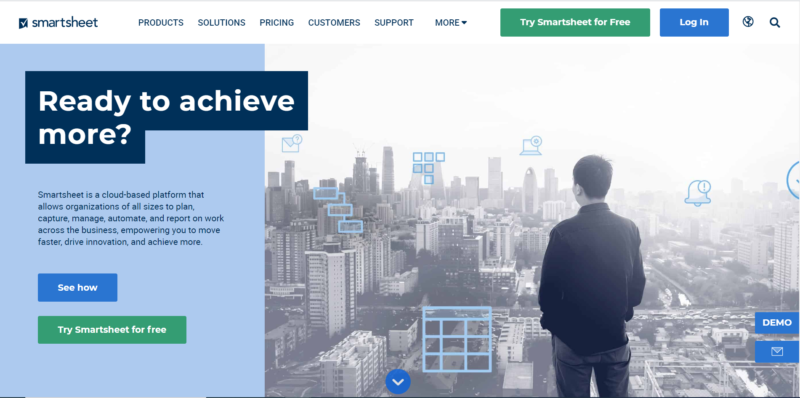 ---
All-In-One
The topic of collaboration encompasses various aspects and tasks related to efficient collaboration, which can be optimally covered today with "Best of Breed" tools – that is, lean applications that focus on a specific problem. These include task management, project management, controlling, file management, time management, reporting, appointment management, communication (chat and online meetings), and knowledge management. However, there are companies that prefer to work on a holistic platform rather than with many individual solutions. All-in-one collaboration solutions such as Projectplace, Wrike, Planio, Bitrix24, Huddle or ActiveCollab are particularly popular with larger companies that have more established and complex processes. Because they promise a uniform user experience and at the same time support the IT department in user management. In contrast to most best-of-breed tools, holistic collaboration solutions can often not only be used on-demand, but also operated in your own company network.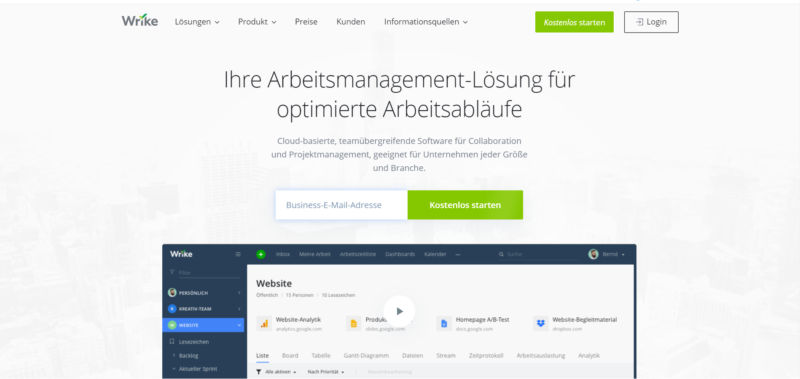 ---
Social networks for companies
Such platforms don't just compete among themselves. You also have to stand up to social networks for business. These represent a further development of the traditional intranets from the late 1990s and serve as a central information hub for the entire company. The goal: To promote communication, collaboration, and knowledge exchange among all employees – whether 10, 100, or 1000. In addition to the usual collaboration tools, they offer features such as "Follow", "Like", hashtags, @ mentions and activity streams as you know them from Facebook, Twitter, and Co.


The best-known representatives in this category include Yammer, who is considered a pioneer in this segment and was taken over by Microsoft a few years ago, Chatter, which is offered by Salesforce, and Socialcast by the virtualization specialist VMware. With Communote, Coyo, Xelos, and Tixxt there are also professional alternatives that are being developed in Germany and that need not shy away from comparison with the heavyweights from the USA – quite the contrary.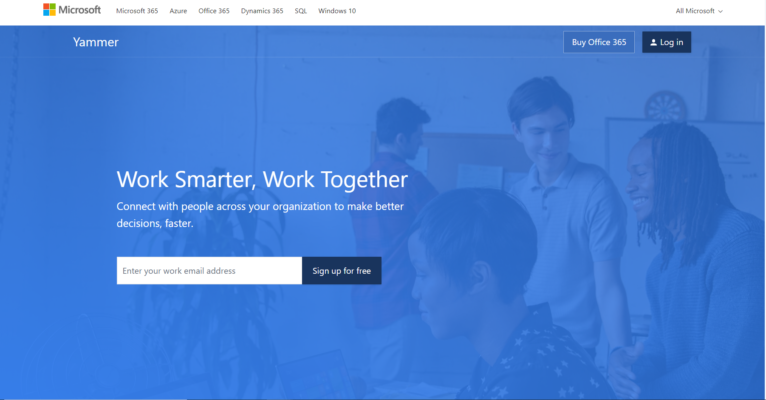 ---
Conclusion
Which collaboration solution is right for a company depends on many individual factors, including industry, team size, management style, and corporate culture. Before you start your search for home office, you should, therefore, be clear about which goals you are pursuing, which processes are specifically covered, and, above all, which employees should use the software every day. Since most of the collaboration services are now offered in the freemium model, it is advisable to test them extensively as part of a pilot project in a small group of users under real conditions.


One thing is certain: There is no universal collaboration solution that is suitable for every company – the Photoshop among the collaboration applications, so to speak. "The" perfect solution will be sought in vain. The decisive factor is rather the acceptance of the end-user. Through the use of collaboration software, every employee, not just the company management, should be able to achieve real benefits and noticeable or measurable results.