Improve your reports
Project budgeting, client billing, payroll, productivity analytics: Whatever it is that you do with your time data, it just got a lot easier, faster and better. Introducing our brand new reporting engine.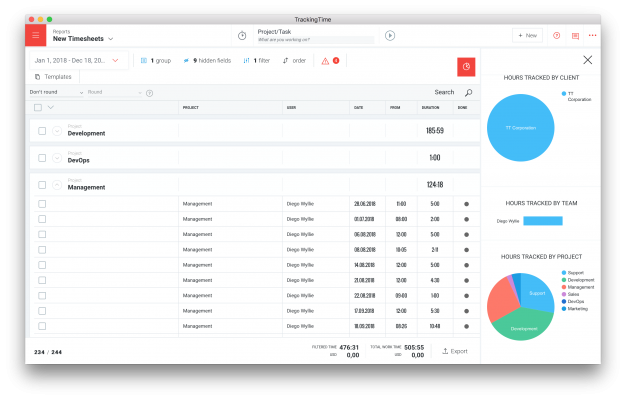 Track and manage time effectively, create accurate reports with ease. This pretty much sums up our mission and the core features of our product. With our latest updates over the past few months, we have focused on helping team managers make sure that their employees keep tracking their time consistently. Now, with the latest release launched today we aim to help our customers make the most of their employees' time data.


After gathering user feedback and analyzing the usage of timesheets and custom reports for several months we have implemented a new report engine from the ground up. It combines the best features of the previous timesheets and custom reports in an intuitive user interface that is powerful and yet simple to use.


The new timesheets make it easy for you to customize your reports by adding filters, orders and groups and hiding the information that you don't need to be included in your reports.


What's new
Print reports: Now, you can print your reports directly from within the app.
Export to Excel: Export reports in XLS format to open them with Excel
Improved auditing: A fully revamped audit module helps you make sure your time data is always accurate and consistent.
Improved PDF: PDF reports now look a lot nicer than before and support the full UTF-8 character set, including the Russian and Arabic alphabets.
Add your company logo: Now, you can include your company logo when printing or exporting to PDF.
Also in this update

The New button on the top bar helps you add tasks, hours and more faster than ever.
The side bar is now fully collapsible, so that you get more space for the really important stuff.
Report bookmarks have been renamed "Templates". The functionality remains the same and you can access your current bookmarks under templates.
Many other fixes and UX improvements.
Check out the new timesheet and let us know what you think! We'd love to hear your feedback.