It's been only four months since TrackingTime PRO was launched, and we have come a long way since then. We've been through many updates so fast that we feel like we need to make a pause and give them the importance they deserve. Here's what we've been up to:
Time Entries and My Tasks
You can add your entry to calendar from the "My Tasks" navigation
Time entries can be created without assigning any task
You can now edit time while tracking. No need to stop the timer, just edit the start time of the task you are currently tracking.

Activity
When you start tracking on the activity tab, the time entry is placed first in the list.
You can see the day of the week.
Timelines are displayed on the Activity Tab so you can see how everyone is doing. Also the header pins up while you scroll so it's easier to read your team's entries and the info in Activity is sorted by user name.
You can click the little "Edit" Button by the side of your task to edit it.
Your tab now displays the name and duration of the task you are tracking.
Insights
See how your day is distributed across projects, customers and services. Insights are automatically shown on your Activity tab to give you an overview of your how your team distributes its time.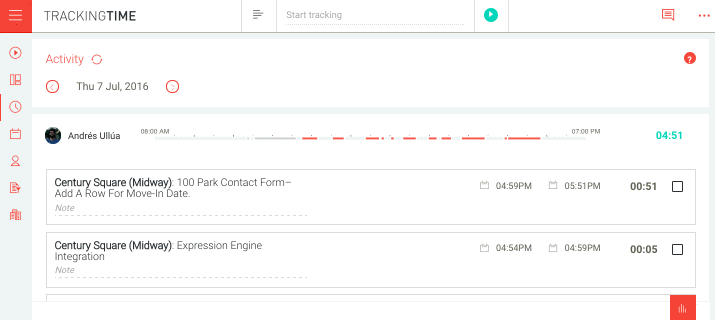 To stay up to date with what's new on TrackingTime visit the Link to the product updates on your app