The cloud-based productivity service TrackingTime launches its brand new Chrome App during the Berlin Web Week in the German capital city.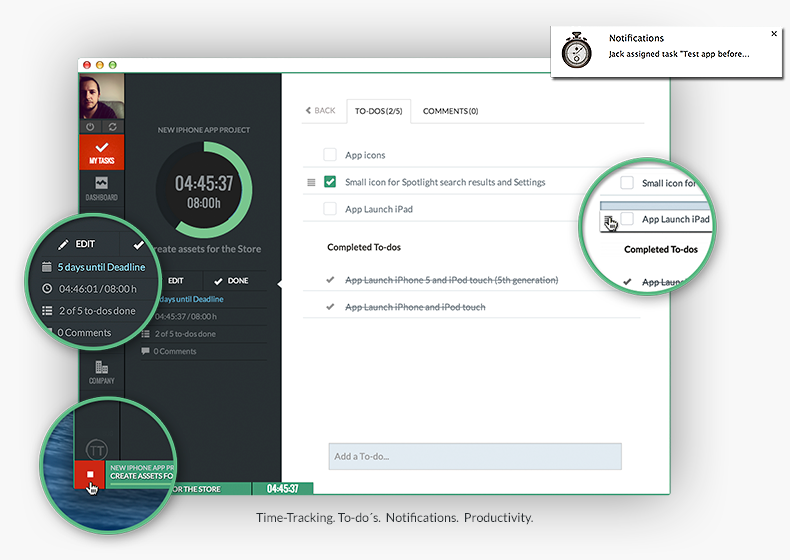 Berlin, 05. May 2014 – The Berlin Web Week is the largest festival for the digital scene in Europe. The schedule embraces international conferences, hackathons, investor meet-ups and job exchanges relating to the topics Internet economy, digital technologies and startups. This year the event is taking place from 5 to 10 May 2014 and over 15,000 visitors from all over the world are expected.
We are very excited to be among them presenting the brand new TrackingTime app for Google Chrome. Since the search giant brought its Chrome apps to the desktop at the end of last year we've been hard at work developing a full-featured time tracking app that behaves and feels just like native software. It's awesome.
We think you'll love it.
Top Features
Tasks Tracking: Keep track of your working times right from your to-do list with just one click. No need to fill out timesheets or set up timers.
Built-in Collaboration: Organise your team, projects and tasks. Real-time updates and notifications ensure everyone is always on the same page.
Task Comments: Keep all the conversations about your tasks in one place.
Subtasks: Break complex tasks into smaller achievable goals.
Time Analytics: Building great projects, teams and companies takes time. Our detailed timesheets and performance reports show you exactly how much.
International: TrackingTime is designed for global teams. The app is localised for English, German and Spanish. More languages coming soon!
Enterprise class Security: Our system is built on top of Java Enterprise solutions, the same technology used by banks and top e-commerce providers.
Download the App
To download the app, please visit the following link using Google Chrome and follow the instructions on screen:
Download TrackingTime from the Google Chrome Store
Catch Us Live in Berlin!
Diego Wyllie, one of our co-founders, will be in Berlin the whole week. He'll be attending the tech conferences NEXT Berlin and Tools. If you are also in the city, please get in touch with us and come say hi! We would love to meet with you. Otherwise you can always send us an email, in case you have any questions or want to know more about us.
Email: [email protected]
Twitter: @dmwyllie
About TrackingTime
TrackingTime is a collaborative, cloud-based time tracking service that helps businesses of any size manage their projects, track working times and measure productivity. The company was founded in 2012 by Eric Tulle, Diego Wyllie and Leonardo Custer and received seed capital from Enzyme VC, one of the top VC firms in Latin America. It is incorporated in the US and has offices in Buenos Aires and Munich. TrackingTime's mission is to empower companies to effectively manage their most valuable asset: time.