Marketing automation tools streamline marketing activities, optimize workflows, and assess the results of marketing strategies.
Discover the Top Marketing Automation Tools to Try in 2021
Marketing automation tools are so prevalent that the marketing automation industry has increased in revenue from a $500 million USD to $6.1 billion USD market. And is further tipped to almost double by 2023, as per SharpSpring's Investor Presentation.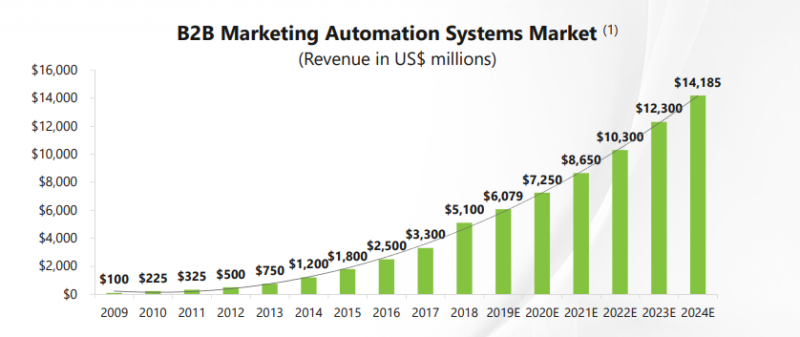 Marketing automation tools are already an indispensable growth factor for companies. Therefore, most of them are employing them in some form or another nowadays.
According to a Social Media Today report, 75% of all companies already use at least one type of marketing automation tool. Another 91% of marketers cite that marketing automation is very important to the overall success of their marketing campaigns, helping them capture a greater number of leads (80%) and improve their overall conversions (77%).
Despite the necessity of automation software, it's a complicated space, full of different software solutions with various features and use cases. Additionally, marketing automation platforms continue to evolve, finding the right platform gets harder than ever.
What Is the Need for a Marketing Automation Software?
The reason behind this insurgent growth of marketing automation platforms can be attributed to the automation features they offer across the several marketing stages of email, lead generation, social media, etc. In addition, these tools also provide a centralized marketing repository for all market intelligence. Also, powerful analytics, advanced reporting capabilities, and integrations to assist marketers in developing differentiated and tailored marketing experiences for clients and prospects.
That being said, automation tools should not be defined on this basis alone. Certainly, all-in-one automation tools that carry out all of these functions exist. However, most automation tools specialize in different aspects of marketing automation. It falls upon you to determine your business needs so as to avoid over-investing in an all-inclusive tool. Here, we will take a look at an assortment of marketing automation tools that you should try out if you're looking for new, easy ways to streamline marketing functions.
1. HubSpot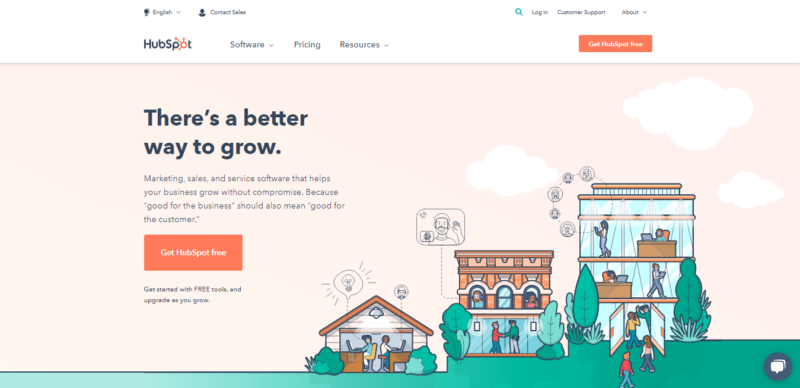 HubSpot's marketing automation platform is among the most successful when it comes to user sentiment, with the tool taking up the upper-right part of the G2 Crowd quadrant. As an individual application, it lets you create simplistic and extremely complex conditional workflows. Furthermore, it comprises a growth suite that contains marketing, sales, and support software.
The combined impact of being able to access your marketing data and growth activity from one place can trigger oodles of inventive automation capabilities. And you could even install email list autoresponders. Or develop an intelligent and sophisticated set of bylaws developed to target particular users with the appropriate email, chat service, web experience, and more.
2. Acquire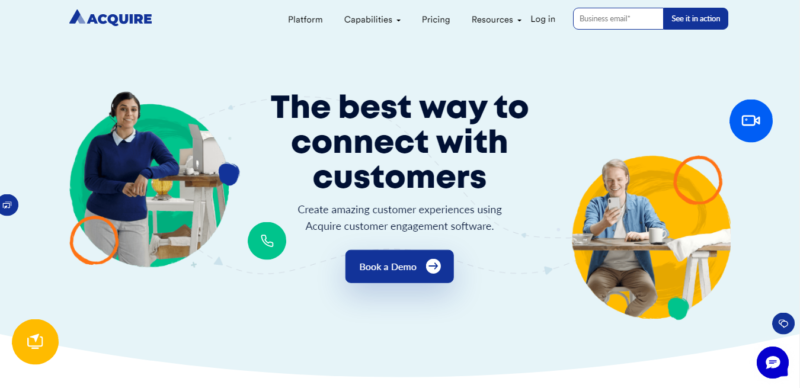 Acquire.io is a multi-channel customer journey automation platform. It allows businesses to connect with consumers and provide them with enhanced customer and sales support throughout their journey. The platform's flagship features, live chat and chatbot, allow you to automate repeat customer queries and service the more sophisticated ones by routing them to a live agent.
It has a VoIP feature that connects your phone. And online support to make communication workflows easier. While a shared inbox helps you keep up with all customer interactions through a unified dashboard. With a powerful analytics engine, the platform also provides you with comprehensive customer engagement data to improve your customer support levels. To top it all off, it offers 50+ integrations to simplify customer communications and boost the productivity of your support team.
3. Omnisend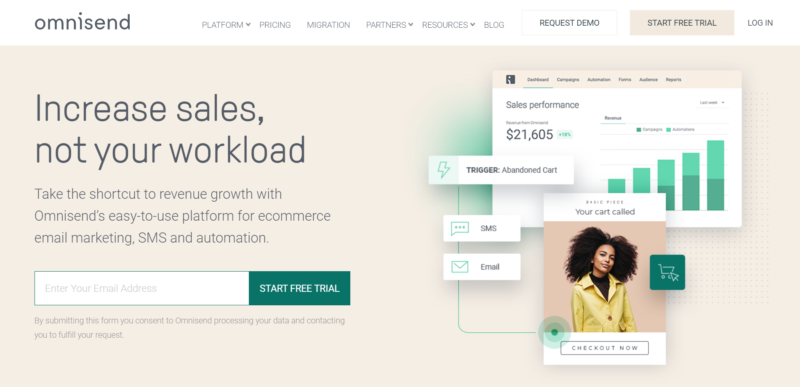 Omnisend is a marketing automation platform built for ecommerce. Marrying ease-of-use with the sophisticated features online merchants need, Omnisend offers marketing automation workflows for every stage of the customer journey. Use email, SMS, and push notifications within the same workflow so you can reach your customer on their preferred platform, and customizable templates make creation and set up a snap.
With Omnisend, you can create emails using a drag-and-drop builder. The platform doesn't stop there—smart segmentation means you can target any of your marketing messages easily, and automation splits allow you to even target your customers based on how they react to your workflows in real time. Finally, advanced sales reporting and metrics mean you'll always know which of your campaigns and workflows are earning you the most revenue.
4. Marketo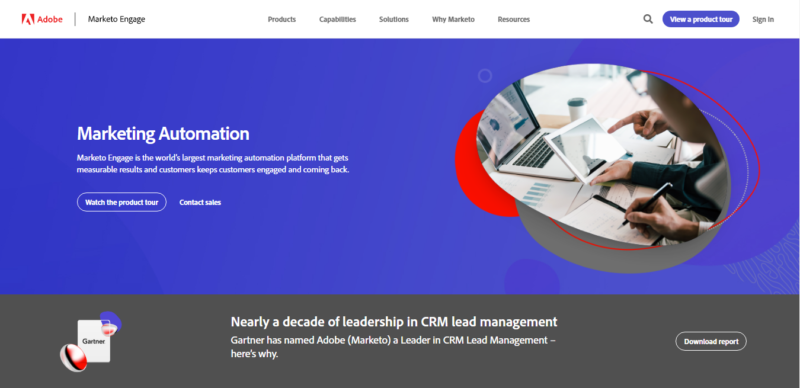 Marketo helps marketers bring user data, content, analytics, and automation together to deliver exceptional experiences in tandem with sales. And coordinate engagement that's customized and measurable at every stage of the customer journey. The platform was purchased by Adobe not too long ago who then integrated the tool with its enterprise marketing cloud.
Courtesy of the Adobe integration, marketers using Adobe Target and Adobe Analytics for data assessment and exploration will find themselves in possession of an extremely powerful marketing automation suite. Its full-featured application can manage anything. Including account-based marketing and digital advertising. Thus making it a great option for large enterprises.
5. Automate.io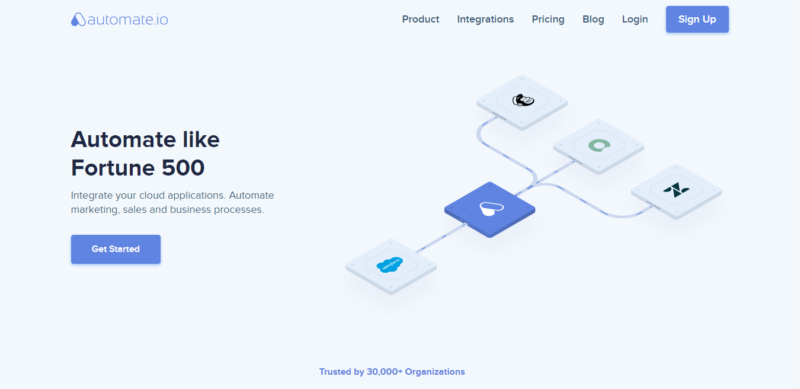 Automate.io offers a way to link all of your cloud services together. And allows you to swiftly streamline sales, transactions, and other business processes. It is a reliable and efficient application that provides data retention features, encryption during transit and rest, and audit logs.
With this tool, you can clean the data and introduce conditional logic or time delay in your workflows. It has a provision for creating integrations visually. Also, it allows you to utilize Rest API and Webhooks to sync with other apps. In addition, it also offers support to all common applications needed for marketing, CRM, helpdesk, e-commerce, web forms, collaboration, etc.
6. ActiveCampaign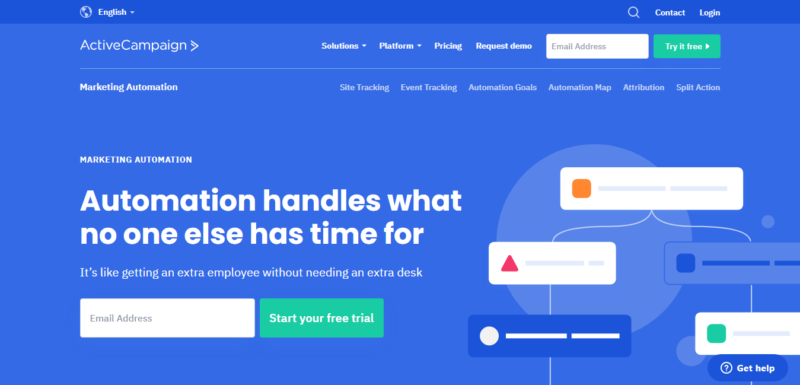 Used by over 90,000 SMBs, ActiveCampaign's customer experience automation (CXA) platform offers businesses several inbuilt automations that combine marketing automation, email marketing, and small business CRM for effective customization and segmentation capabilities. Certainly, the defining strength of ActiveCampaign is its extremely powerful marketing automation functionality.
This enables businesses of all sizes to automate personalized experiences, track buyer behavior and preferences, and utilize data from the buyer's lifecycle to personalize sends by selecting the best channel, content, and send time for each customer. Certainly, this tool is not the best for beginners. But once you make an effort to learn the platform, it's really powerful.
7. Sprout Social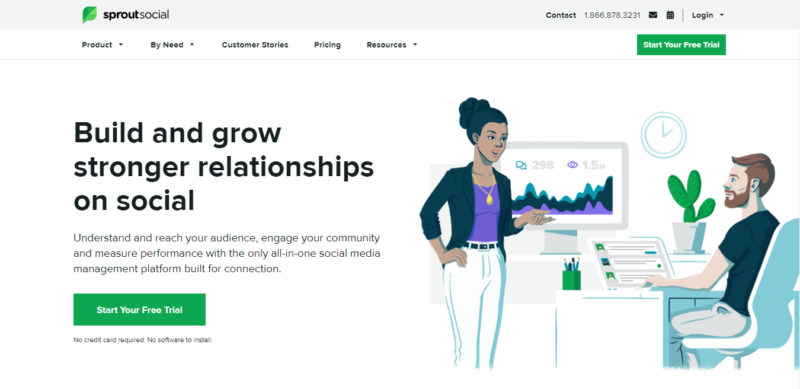 A social networking management and business engagement platform for businesses. Sprout Social enables brands to efficiently interact with existing customers and prospects. It also boasts of one the most wide-ranging feature sets among social media automation tools.
It has specifically designed solutions for everything. From customer service and social media management to marketing, customer service, intelligence & data, and employee advocacy. The publication arm of Sprout Social is an amazing solution for teams as well, facilitating easy collaboration on both planning and implementation.
8. Landingi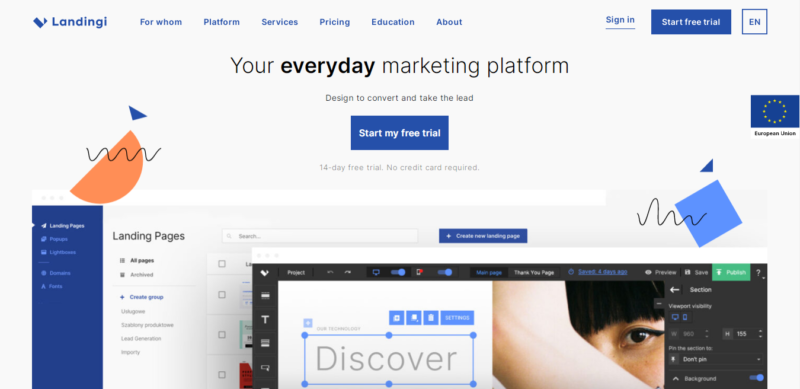 Landingi is a workflow automation platform whose main functionality is helping you run standalone marketing campaigns with landing pages. It provides several solutions to enable customers at each and every phase of the creation of the marketing campaign. It allows you to utilize landing pages, from campaign design to integration, launch, optimization, and conversion.
Additionally, the platform has an incredibly user-friendly and imaginative drag & drop editor comparable to Wix and Elementor through whose help you can create beautiful sales funnels, landing pages, and mobile pages. It has 300+ pre-made templates that allow you to create high-converting landing pages easily. It also provides 40+ integrations to automate workflows and enhance marketing effectiveness greatly.
9. Content Studio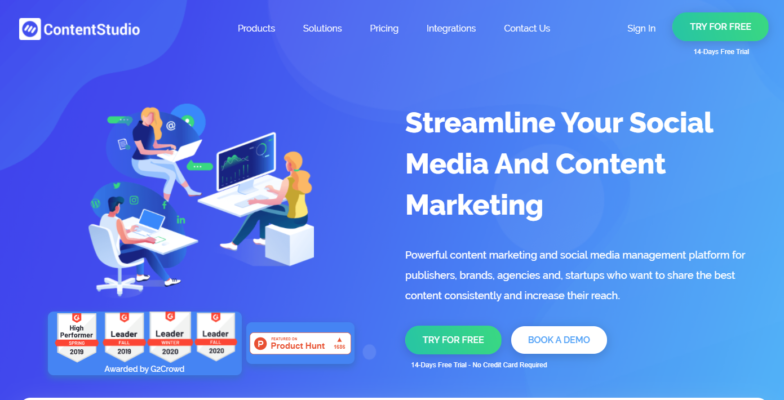 ContentStudio is a great platform for your content and social media automation. You can search for influencers and trending topics from it's RSS feed. And curate them and publish to all your social channels in one go or schedule them for later in the content planner. Also, design canva social media posts straight from the content studio's dashboard and schedule them for an entire year!
In addition, it lets you schedule unlimited posts/day and allows 5 users/workspaces with 10 social profiles! Therefore, you can customize your packages according to what's feasible to you.
10. Hootsuite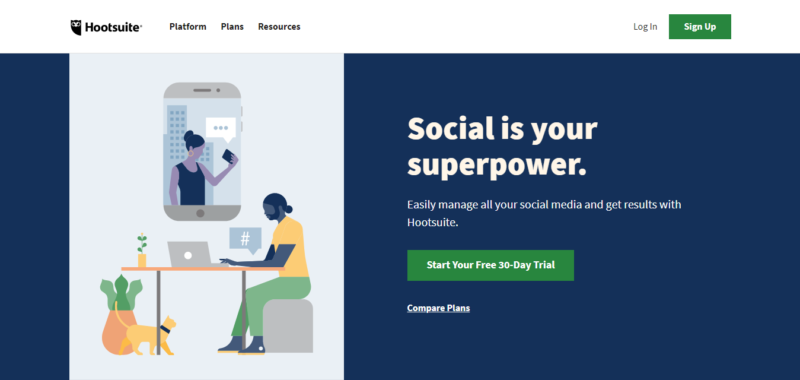 Hootsuite is a free and premium platform for social media management. It allows you to publish status updates to different networks concurrently, as well as evaluate responses. And it is an incredibly valuable solution that helps marketers to maintain and document social media engagement in terms of managing programs, promoting specific content, and ensuring constant interaction.
Additionally, it lets you post content to several social networking websites. And in the process, saves marketers a whole lot of time. And it also has a feature where you can auto-schedule content for future updates so that you can plan for your social media marketing ahead of time.
11. LeadsBridge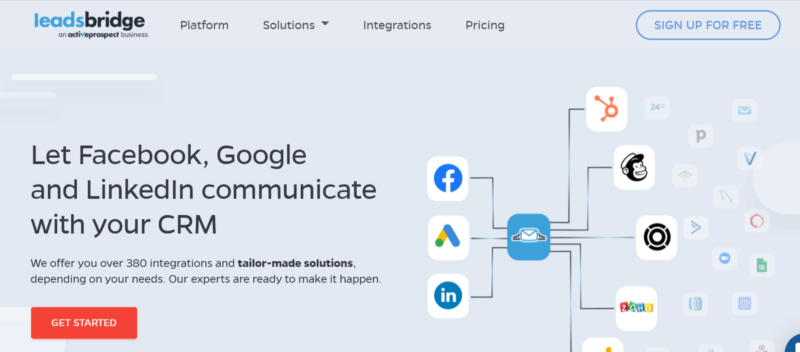 LeadsBridge is an iPaaS solution that enables companies to enhance their omnichannel strategy by orchestrating their business data. It fulfills your integration needs, focusing on bridging gaps between advertising platforms and sales funnels, and delivering tailor-made integrations made upon your business needs.
The LeadsBridge platform is suited for companies that want to streamline their advertising activities by integrating the marketing technology stack with Facebook & Instagram Ads, Google Ads, and LinkedIn Ads. With +370 out-of-the-box integrations available at the moment, you can easily connect your chosen software with your advertising platform, seamlessly synchronizing data for your marketing workflows.
12. MobileMonkey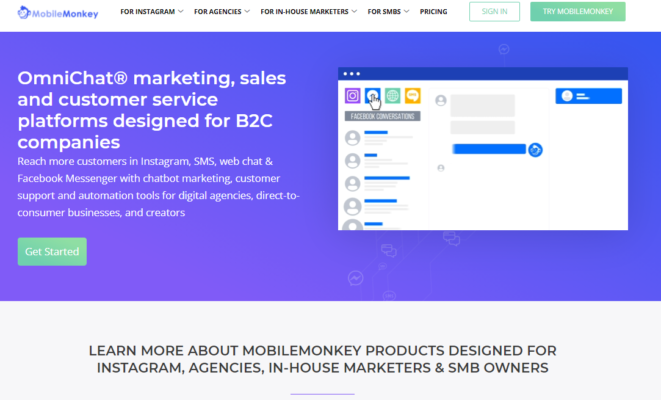 MobileMonkey is a multi-channel marketing automation platform that allows users to build Facebook messenger bots, Instagram Messaging bots, SMS bots, and native webchat bots in one place.
Chatbots auto-respond to Facebook and Instagram messages and auto-replies to Facebook and Instagram comments. On top of that, it allows users to create conversion funnels that generate leads. And it allows marketers to educate and nurture with better engagement using drip campaigns.
13. Outfunnel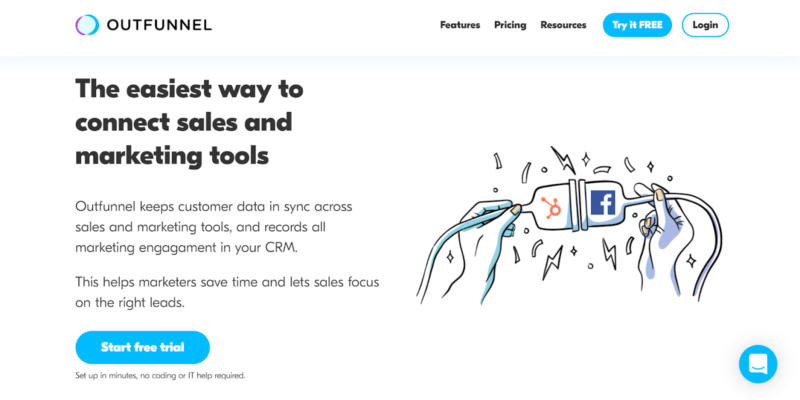 Outfunnel is a data integration tool that makes it incredibly easy to connect sales and marketing tools. The product features pre-built workflows that help you to sync your sales and marketing contact lists, automatically share marketing data with the sales team, and so much more.
Some of Outfunnel's key features include: App connector (allowing sales and marketing efforts to be synced 24/7, automatically sharing data where needed), Web tracking and Lead scoring
Outfunnel offers integrations such as HubSpot-Mailchimp, Pipedrive-Mailchimp, HubSpot-ActiveCampaign, and more. Its user Interface is simple and users will understand its navigation in no time.
14. Newoldstamp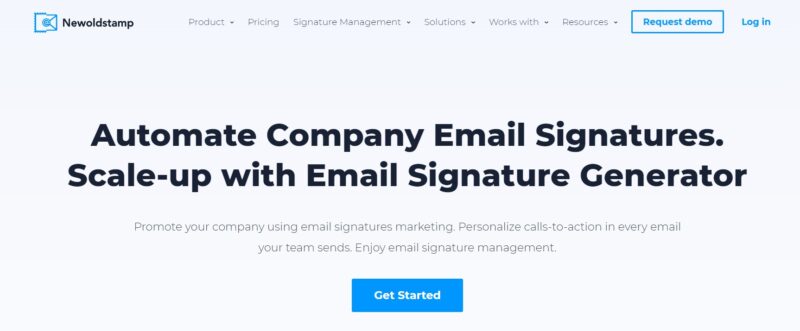 Newoldstamp is a top-notch email signature generator that lets you seamlessly create, manage, and distribute email signatures across your whole company. The software helps to turn business correspondence into an effective marketing channel.
With Newoldstamp you can: Create an interactive email signature that meets branding requirements, manage all email signatures of your team in one place, run email signature banner campaigns, track email signature performance, customize existing signature templates, and create different email signature templates for every department.
15. EngageBay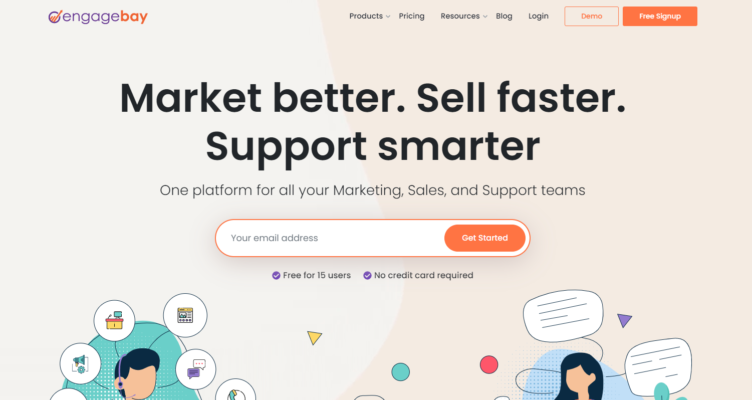 EngageBay is a marketing software that allows marketers to automate, manage and monitor their email and social media campaigns. It's easy to use because it allows users to schedule posts on multiple platforms directly from the dashboard. It enables you to build custom audiences, track engagement metrics, analyze all customer data, identify top clients and generate reports based on such findings.
Its key features are tracking campaign results, managing your entire workflow (tracking subscribers, sending emails and canned responses) in one place, and A/B testing of both emails broadcasts and landing pages. It makes it super easy even for beginners to send email sequences and broadcasts, and then follow up with those who respond and those who don't. The software automatically updates all data in real-time, including click rates, open rates, number of bounced emails, and so on.
16. Systeme.io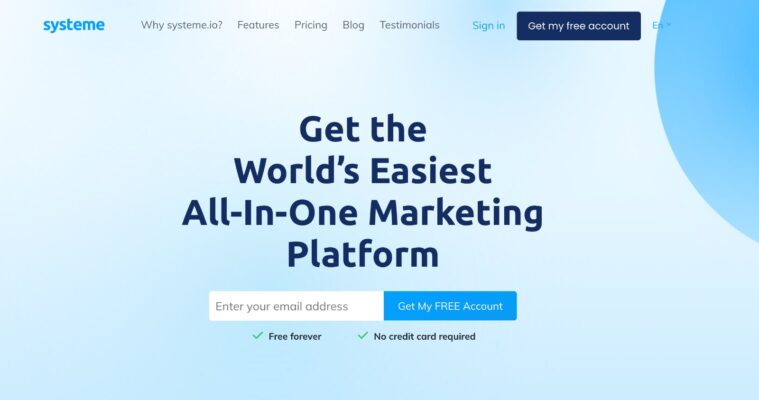 Systeme.io is an all-in-one platform to start an online business.ā
The tool was created by Aurélien Amacker, a French infopreneur. He wanted to create a more complete and cheaper tool than Clickfunnels. So he created systeme.io so that anyone can start an online business.
With the drag and drop editor, you can create sales tunnels, send unlimited emails, host your online courses, launch a blog, automate all your business, and launch and promote your affiliate program your affiliate program.
The tool is totally free until 2000 contacts in your mailing list.
Best Marketing Automation Tools Conclusion
A good marketing automation tool can help you separate yourself from the crowd. And make the whole process of marketing easier for your team. Therefore, if you are at a loss at deciding which marketing automation software is right for you, the above tools are a good place to start. Try out some of them! And upon finding the right tool for your business purposes, stick to it and kick back as it automates your processes for you.
---
About the author:
Savan Kharod is a Digital Marketing Professional at Acquire. He loves to share his knowledge and experience in digital marketing, social media marketing, customer service, and growth marketing. In his free time, Savan likes to backpack and explore new places. You can reach out to him on LinkedIn or Twitter.
---
Top 2021 Marketing Automation Tools
HubSpot

Marketing automation platform

Acquire

Multi-channel customer journey automation platform

Omnisend

Marketing automation platform built for ecommerce

Marketo

Brings together user data, content analytics and automation

Automate.io

Links all of your cloud services together and streamline sales and other business processes

ActiveCampaign

Customer Experience Automation (CXA) platform

Sprout Social

Social networking management and business engagement platform for businesses

Landingi

Workflow automation platform

Content Studio

Content and social media automation platform

Hootsuite

Free and premium platform for social media management

LeadsBridge

iPaaS solution that enables companies to enhance their omnichannel strategy by orchestrating their business data.

MobileMonkey

Multi-channel marketing automation platform that allows users to build Facebook messenger bots, Instagram Messaging bots, SMS bots, and native webchat bots in one place.
---
It may interest you: