Cloud-based human resources (HR) solutions accelerate workforce processes and help companies free their employees from routine tasks. The following is a presentation of modern recruiting tools, digital staff files, and more that SMBs can use to automate staff work.
HR Solutions to Improve Processes
Digital transformation is advancing and does not stop in HR departments. Regardless of whether you work in the automotive industry, service industry, or IT, every business needs employees. And the functional requirements of HR software to manage it efficiently always remain relatively the same.
Horizontal personnel management solutions that can be used in any industry and in any company are therefore ideal for the cloud. In this context, it is not surprising that cloud-based business applications for everything related to payroll, time management, candidate management, talent management, etc. become more and more popular.
SMBs Are Discovering the HR Cloud
Small and medium-sized companies play a central role as engines of growth. Because they are increasingly investing in software solutions that support HR processes better than Excel and the rudimentary office tools they used in the past. The range of simple and inexpensive HR tools specifically targeting SMBs is still quite small compared to other business software segments. Such as customer management, collaboration, or accounting. But now you can find a whole range of professional cloud services that can adapt to your needs.
These enable HR departments to speed up daily strategic and administrative processes. And work better together in teams to do their jobs more efficiently. According to analysts at Roland Berger, German companies use HR tools that focus on administrative tasks (such as payroll accounting, vacation planning, or time recording) much more frequently than strategic solutions. But cloud systems that support companies in recruiting, talent management, and the like show higher growth rates than operational HR tools, according to analysts.
Next, we present professional and modern HR solutions for recruitment and personnel managementB With them, startups and SMBs can digitize the work of personnel in the cloud. We focus on software providers that operate their applications in European data centers. As well as international providers whose products comply with the new General Data Protection Regulation (GDPR). LMS for small businesses solutions and SMBs is a modern and efficient way to streamline employee training and development, ensuring a skilled and empowered workforce.
Lean vs. All-in-One Solutions
Companies that are still in their infancy when it comes to digitizing their HR work can basically choose between two approaches to finding the right tools for their teams: "Best of bread" or "All in one".
The best of bread approach is to use several lightweight HR tools that are inexpensive and easy to implement. Each focusing on a specific functional area. Companies can use one tool for recruiting, another for talent management, and another third-party solution for payroll accounting.
To avoid data redundancy or complicated integrations, many companies opt for all-in-one solutions.
The great disadvantage of this approach is that the integration of different solutions is not easy in practice, on the contrary. To avoid data redundancy or complicated integrations, many companies opt for all-in-one solutions. These comprehensive suites bring together multiple functional modules under one roof. And offer users a uniform and consistent user experience across departmental boundaries. In turn, this can increase user acceptance of the newly introduced solution. Employees do not have to be familiar with the different systems and orient themselves.
This Is How Recruiting Works Today
For example, if you want the software to optimize employee search and candidate management, you can use the best lean tools like eRecruiter, Coveto, Taledo, JobTool 24, Softgarden, or Recruitee. They focus entirely on recruiting. Or you can opt for feature-rich HR suites like Personio, Zoho People, HR Works, Jacando, or HR Suite Plus from Sage. In addition to a recruiting module, they include other tools for staff development, time management, job management. travel expenses, payroll accounting and talent, offers management and more.
Among lightweight tools, Recruitee impresses as a high-quality SaaS solution. It attracts startups and SMBs, as well as larger companies with a flexible pricing model. Clients benefit from flexibly tailored professional pages, which are the number one point of contact for applicants. Here companies can impressively tell their story and post vacancies. With the integrated editor you can design your career page yourself and adapt it to your corporate design. One plus point: Career pages are optimized for mobile devices and can integrate into your own company website.
Other core features include direct links to job boards and multiposting. You can publish job postings on more than 400 job boards around the world and shared on social media. You can control each hiring process for each advertised position individually. Convenient: after receiving an application, a CV analysis tool ensures the automatic read of incoming CVs. And save relevant information in a candidate profile.
1. Prescreen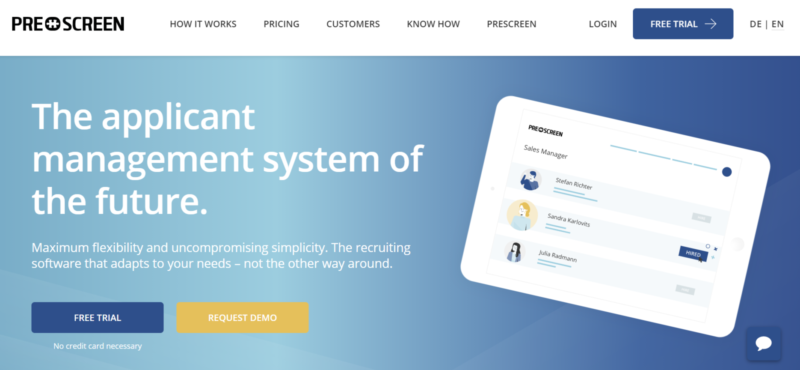 Another young startup on the road to success with a cloud-based recruiting solution is Prescreen. And has branches in Vienna and Berlin. Recently Xing, the German market leader among professional platforms, acquired the startup for 17 million euros. As soon as you move with Prescreen, you will immediately notice that this is a product of the cloud age.
The service launched in 2012 not only impresses with its appropriate features. But also with the high level of usability and price transparency that characterize modern cloud software today. Marketed as the "candidate management software of the future", Prescreen enables companies of all sizes to quickly post job postings online (on over 200 job boards) and offline. And offer candidates the opportunity to apply directly for vacancies through a career page.
Therefore, Prescreen competes directly with Recruitee. And not just in terms of functionality. Both tools have the same price level. While entry-level rates at Recruitee start at €79 net per month (4 jobs opens), Prescreen costs from €75 net per month (3 jobs opens).
2. Holistic HR suites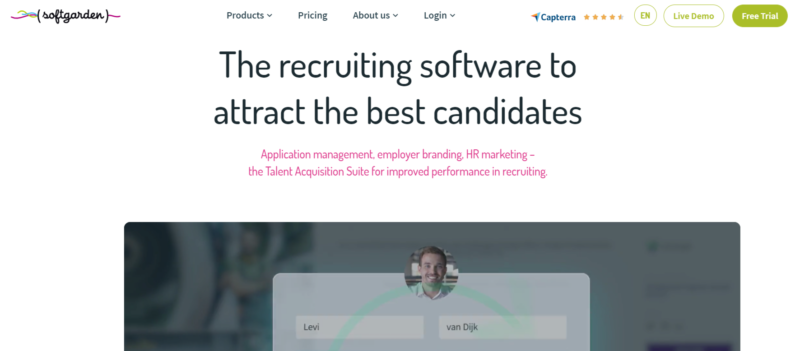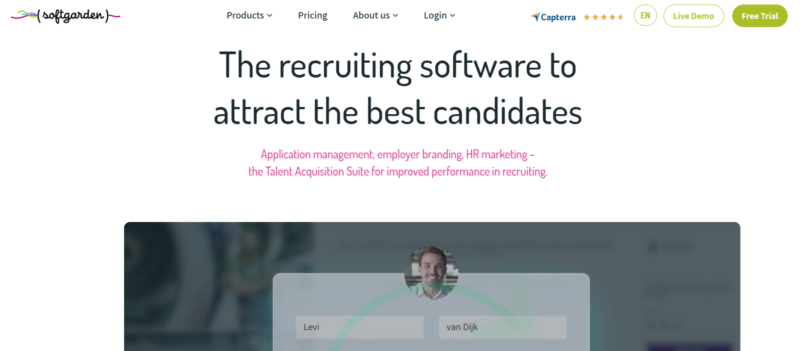 Not only are these startups competing with each other. But they must also prevail against established HR software vendors who also focus on candidate management but have been in the market for a long time. These include Softgarden, eRecruiter, Bite, Coveto, and JobTool 24. There are also a number of comprehensive HR suites. They have a recruiting module but support other functional areas as well.
In fact, the subject of personnel management is so comprehensive that it often makes sense to use a 360-degree suite. In which, the several processes related to payroll, vacation planning, registration can be centrally managed time management, travel expense accounting, staff development, talent management, or absence management. can be handled in one place. Thanks to the modular structure of the solutions, companies can start small and then scale the system step-by-step if necessary.
3. Zoho People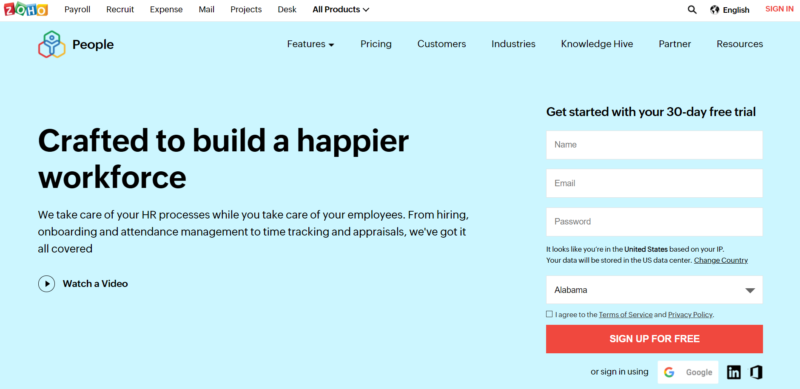 Digital personnel files are a good entry point into the digital world of human resources. And are available as a standard module of all major human resources suites. This includes, for example, Zoho People. This allows you to centrally store business information, contracts, payroll, sick leave, and other employee documents.
By centralizing employee data in one system, HR departments should achieve greater transparency and easy access to relevant employee data. The concept of self-service plays a central role here. Employees can request their vacation themselves, update their personal data and skills themselves, and log in and out. At the same time, managers have access to all relevant employee information at any time. They can control approvals, plan and approve vacations, and much more. Another advantage of Zoho is the price. With fees ranging from USD 1 to USD 5 per employee per month, the program is one of the cheapest alternatives in this comparison.
4. Personio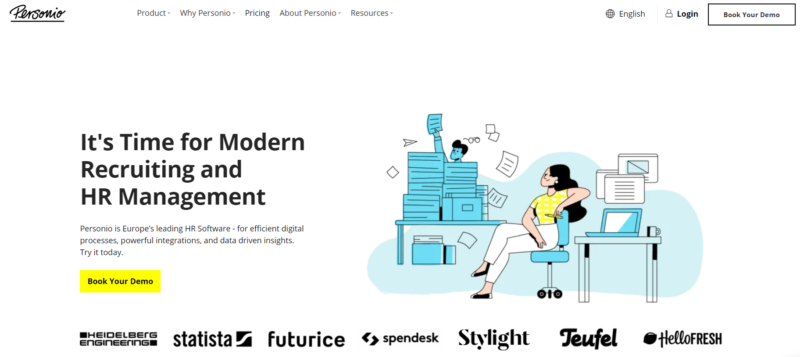 Personio presents itself as another software vendor that has declared war on the chaos of Excel paper and tables. And is driving digitization in the human resources area. Unlike Zoho Corporation, which employs more than 7,000 people in India, Personio is a startup launched only a few years ago. However, since its founding in 2015, the Munich team has grown surprisingly fast.
Personio now employs more than 100 people and has already raised more than US $ 14 million in capital. With the software, marketed as a "human resources operating system" for companies with up to 1,000 employees, companies can centrally manage master data, documents, absenteeism and salaries.
Employee management works with digital personnel files and includes onboarding workflows, time and absence recording, document management, and payroll accounting. In the area of employee development, the cloud-native solution scores with advanced performance and feedback tools not found with all vendors. With Jacando, HR Works, Infoniqa, Forcont, Perbit and Sage HR Suite Plus, more modular HR platforms are available that appeal to medium and large companies and have been successfully established in the market for years.
Why Use HR Software?
The days when HR managers had to be satisfied with Excel and other rudimentary office tools in order to cope with their various tasks are long gone. The German cloud now offers many HR services that have all the quality features of modern business software: great features, modern user interface, high usability, simple implementation, as well as transparent and affordable pricing conditions.
This makes the topic of digitizing HR work particularly attractive to small and medium-sized businesses and, according to current analysts, is boosting the German HR market. Customers can choose from the best tools and comprehensive all-in-one solutions, each with its own advantages and disadvantages. Therefore, HR professionals must, depending on their initial situation, be clear about their individual requirements and their digitization strategy to better evaluate the different alternatives and find a solution that grows with their company.
---
4 Modern HR Solutions for Businesses and SMBs

Prescreen

Enables companies of all sizes to quickly post job postings online and offline.

Holistic HR suites

These include Softgarden, eRecruiter, Bite, Coveto, and JobTool 24.

Zoho People

Allows you to centrally store business information, contracts, payroll, sick leave, and other employee documents.

Personio

Presents itself as another software vendor that has declared war on the chaos of Excel paper and tables.
---
It may interest you