The beginning of every year is the perfect time to reflect on your accomplishments and set professional goals for the year ahead. If you are a freelancer, it is sometimes cumbersome trying to do everything at once. In addition to their actual work, freelancers must take care of administrative tasks. Holistic solutions that bring such tools together under one roof and are specially designed for the self-employed promise a remedy.
Here's our market overview for 2021
The freelance economy is booming. Today, there are about 57 million self-employed workers in the US, four million more than five years ago. This corresponds to about 35 percent of the workforce in America and five percent of the US gross domestic product. This is based on an exhaustive study carried out since 2014 by the online marketplace for freelancers Upwork and Freelancers Union. It's a non-profit organization from New York that represents the interests of self-employed workers.
This development in the world of work can not only be observed in the US. According to the Federal Employment Agency, the number of self-employed workers has increased. From around 700,000 at the beginning of the millenium, it's currently over two million (as of 2017). And the trend keeps rising. According to a study by Twago, Berlin has the highest number of freelancers in Europe. Interestingly, one in two employees in Germany is flirting with becoming a freelancer, as another study carried out by Forsa Institute shows.
---
Perform administrative tasks efficiently in 2021
Working independently and flexibly, and on top of that being your own boss certainly sounds tempting. But anyone who is already a freelancer knows that not everything is rosy in the world of freelancing. Aside from the financial uncertainty associated with this flexible way of working, there are other disadvantages to consider. Above all, this includes the great expense of time and effort. Because to grow their business, freelancers must take care of everything. Customer acquisition, sales, marketing, billing, customer support, accounting, and much more. Those who fail to organize themselves well in such administrative activities lose valuable time and neglect the quality of their work. Or lose time with their family and friends, which is even worse.
Best of breed vs. All in one
With the triumphant advance of mobile and cloud computing and the booming startup economy, countless startups have emerged in recent years. They focus on a specific problem and offer lightweight tools designed for a clearly defined purpose. Everyone should focus on their core competencies and solve a customer's problem as efficiently as possible, that's the motto. Features that were just another feature within a holistic platform in the PC age have now become independent software categories. Take, for example, billing or timekeeping. Such so-called "best of breed" tools initially promise easy operation, low costs, and a feature set geared towards the needs of a clear target group. However, there are also disadvantages associated with the use of isolated solutions.
The fact that most cloud services today have APIs and offer many integration options does not mean that, as a customer, you have full flexibility in product selection. Often times, different apps that you would like to use and connect will not be compatible with each other. Another disadvantage compared to all-in-one solutions is the higher costs. For example, if you use Asana for project management (13.49 dollars per month), record your working hours with Toggl (10 dollars per month), create invoices with Billomat (9 dollars per month), and do the accounting with another product, you will have to put about 40 dollars on the table every month. Comprehensive solutions for freelancers covering all of these areas are available for as little as ten dollars per month. In addition to the cost advantages, all-in-one solutions are particularly impressive due to their consistent user experience and the comprehensive business processes mapping.
The fact that most cloud services today have APIs and offer many integration options does not mean that, as a customer, you have full flexibility in product selection.
Next, we present professional and modern alternatives that freelancers should know about.
TrackingTime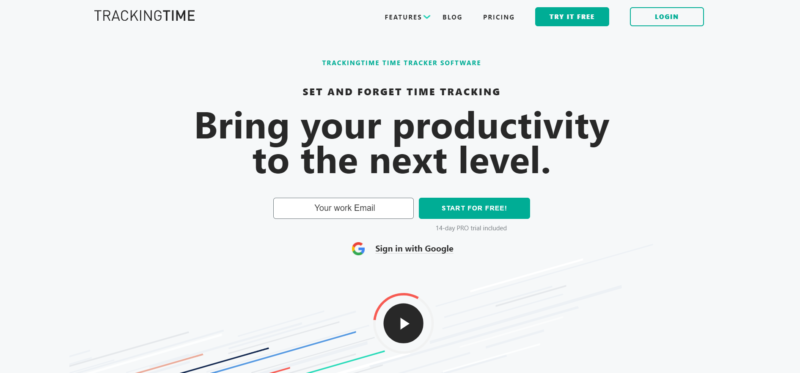 TrackingTime is a very complete solution that helps freelancers and small businesses. It allows to successfully improve task management, time tracking, and reporting for invoicing and client billing. Get a record of worked hours and keep your projects in order. Stay on top of projects in progress or completed with a friendly app.
Goodlance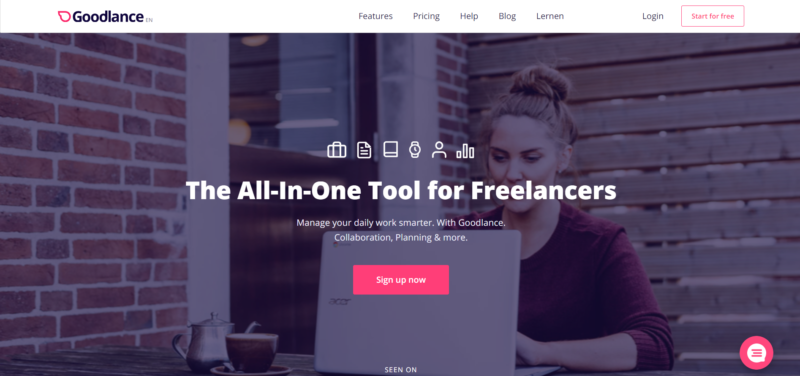 Goodlance is a comprehensive solution for freelancers. Developed and hosted in Germany. It allows self-employed workers to manage customers, orders, projects and tasks, record work time, create invoices, and keep accounting online. Thus, the software optimally covers all core tasks and processes of developers, designers, marketers, and other freelancers. Another advantage: the complete package costs just under 10 euros per month. However, anyone expecting the functionality of a PM tool and billing program, or a full-fledged CRM system, will be disappointed; individual modules are simple in design and offer only standard features. Unfortunately, this is the case with most all-in-one suites. They always have to compromise when it comes to depth of functionality.
Plutio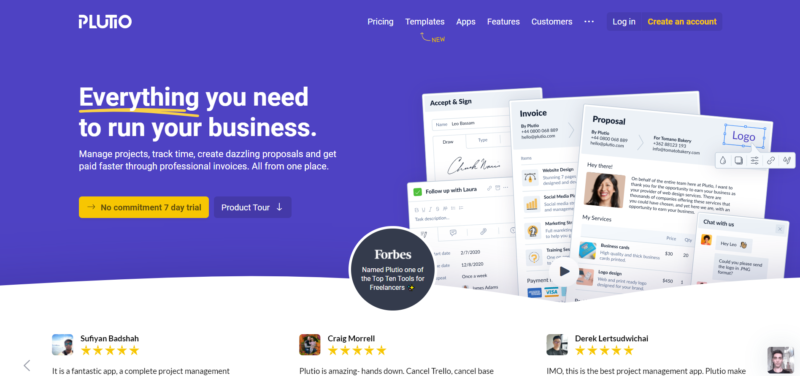 Plutio competes directly with Goodlance. Developed in London and launched in 2015. It offers basically the same functional modules as the cloud service from Frankfurt. According to the provider, it has already convinced over 20,000 freelancers. With Plutio, you can also create quotes and contracts, manage projects and tasks, send invoices, and more. Plutio can make a difference with numerous useful extras that could be decisive for one or another freelancer. These include customer portals, chat functionality, digital contract signing, and email integration. There is also the option for your customers to pay directly online.
Moco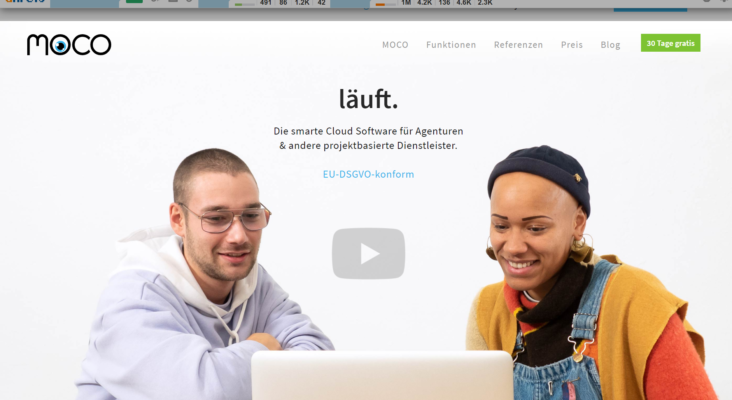 Moco is another SaaS service for freelancers that pursues a holistic approach. Also developed in Europe, launched in Switzerland in 2010. The cloud service is marketed as agency software. But freelancers who often work in teams can also benefit from this, either with clients or with their own partners. For the equivalent of nine euros per user per month, Moco offers timekeeping, billing, customer acquisition, resource planning, and contact management. Convenient: Freelancers who work on an hourly basis can keep track of their working hours with the stopwatch while on the go. Recorded working hours can be billed directly into the program. Users can determine the layout of their invoices themselves, use their own fonts and company logo, and more.
Teamleader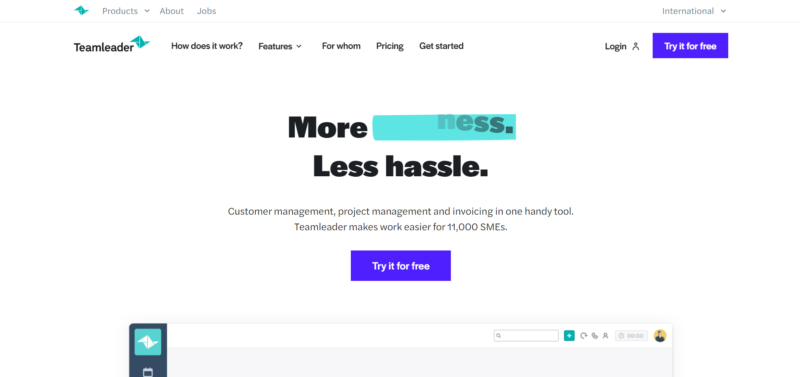 Teamleader was founded in Belgium in 2012. And it has so far convinced more than 10,000 small and medium-sized businesses of the benefits of its comprehensive platform, including many freelancers. The offer includes customer management, sales, timekeeping, billing, project management, help desk and support, as well as telephone traffic (VoIP). If this is not enough, you'll find third-party integrations and business apps in it's own app store to expand the platform. For example, you can automatically export your customer contacts to MailChimp's email newsletter service. Or sync your due dates with Google Calendar and other calendar apps. Cost: From 30 euros per month. With Invoice Ninja and Paymo, there are further professional alternatives available with similar features.
Bonsai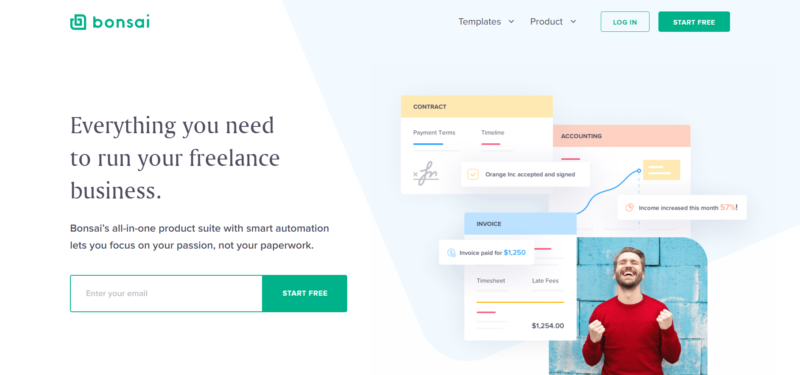 As in most software segments, these European vendors must prevent against startups and established US software companies, which play a market-leading role. Moco, Plutio, and Goodlance compete with Bonsai, a startup from the renowned incubator Y Combinator. It was launched in 2016. According to its own account, now has over 100,000 freelancers worldwide among its customers. Designers, developers, authors, photographers, consultants, and others can use it to centrally manage all their processes. From customer acquisition to invoicing and payment. The software is designed for a global clientele. Bonsai supports international online payments in more than 100 currencies. Recurring invoices that can be automatically created are also practical for freelancers who work on monthly contracts with their clients with fixed prices.
17Hats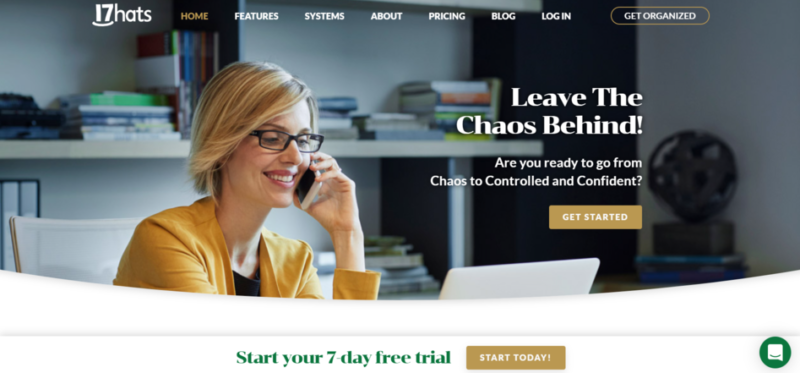 17Hats also comes from the United States. Founded in Los Angeles in 2015, the startup has so far raised around five million dollars in risk capital. And has positioned itself as one of the leading alternatives for "solopreneurs", especially in the US market. In terms of functionality, 17Hats leaves little to be desired. In addition to the core modules for task management, timekeeping, billing and accounting, which can also be found in the other solutions presented, 17Hats offers additional features such as leads, workflow management, user-defined online forms, and more. The great feature set also comes with a price. With a monthly subscription equivalent to 40 euros, the software is significantly more expensive than Bonsai, Moco, and Co. But still cheaper than having to use a separate tool for each area of activity.
---
Billing, accounting, and banking in 2021
It doesn't always have to be either "Best of Breed" or "All in One". There is also something in between. Freelancers find a whole range of software solutions on the market today. Focused on administrative tasks of billing and accounting, with which freelancers can replace not all, but some lean tools.
Modern e-billing solutions, as they are available in countless variants today, address freelancers and self-employed workers. They allow them to manage their services and projects in a professional way. They can automate the most important work processes in the billing area. Also, they can take care of the proper structure of invoices, as well as compliance with legal regulations. Self-employed workers looking for the simplest billing software will find an interesting alternative in Debitoor. In addition to all the tools you need for professional billing, Debitoor also offers accounting with tax advisor access and integration with online banking.
If you want to handle billing, accounting, and banking on a central platform, you should also take a closer look at FinTech solutions from Kontist and Holvi. The advantage: both offer a modern business bank account that is specially designed for freelancers. And can be seamlessly integrated with billing and stream management.
---
Why using all-in-one solutions to improve your workflow in 2021?
All-in-one solutions for freelancers are, in some respects, comparable to classic ERP systems. They serve as the central hub of all important business processes. Compared to best-of-breed tools that only focus on a specific problem area, they promise cost savings, a better user experience, and full business process mapping. From customer management to task management. And from time tracking to billing and accounting. The modern suites we've featured in this article help freelancers optimize annoying tasks and accelerate critical business processes. Both beginners and experts who already use several tools but are not entirely satisfied with their workflows can benefit from this.
It may interest you